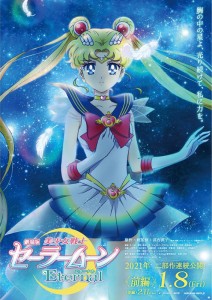 An announcement posted on the Sailor Moon Official Site has mentioned that the release of the upcoming Sailor Moon Eternal film has been delayed as a result of the COVID-19 pandemic. Sailor Moon Eternal Part 1 was originally scheduled to be released in theatres in Japan starting on September 11th 2020 but this release date has now been pushed back to January 8th 2021. In addition to this we also now have a release date for Part 2 of the film, which will be released on February 11th 2021.
We currently have no indication of how or when the film will be released outside of Japan. September 11th was less than three months away when this delay was announced, but we had gotten no news about a simultaneous international release. Were this something which had been planned, I suspect we may have gotten some news about it by now.
Sailor Moon Eternal Part 1 will cover the first half of the Dream Arc of the Sailor Moon manga. Part 2 will cover the second half. We hadn't gotten much in the way of details about the second film but with the movie's release coming up so quickly after the first film, it seems likely that we might get some details about it soon.
I hope none of you had any plans to be in Japan by September of this year! It seems a bit early to be travelling due to the ongoing pandemic. Hopefully the situation will have improved enough by January that some of you are able to travel to see the film and that fans in Japan are able to make it to theatres in safety. While theatres have started to gradually start opening up in Japan and around the world recently, this still presents a risk and movie goers are taking many precautions while attending screenings.
Stay safe and stay healthy everyone!
Possibly Related Posts