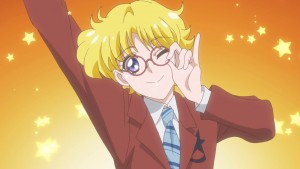 The latest episodes of Sailor Moon Crystal aired on Japanese television on April 25th at 11pm Japan Standard Time and was available to stream on Crunchyroll, Neon Alley and Hulu following that around 10:30am Eastern Time that same morning. I watch the show on Crunchyroll due to the quality of their feed and the fact that as a Canadian it's my legal option. This week's episode, Act 29, Infinity 3 – Two New Soldiers, has Usagi struggling with the kiss she shared with Haruka.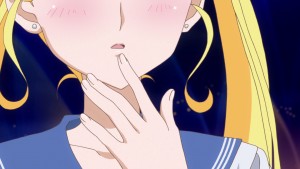 The kiss is meant to occur early in Act 29 of the manga but, like most of this story arc's episodes of Sailor Moon Crystal, the last episode ended with a scene from the next act. The clip before the bumper however shows us the kiss again and we see this time that Sailor Moon has a blushing reaction to it. This insinuates that she liked it and Usagi will be dealing with these feelings throughout this episode and the rest of the season. Is Usagi gay? Classifying her as such doesn't seem to be terribly helpful. Sexuality is fairly fluid amongst the characters in Sailor Moon, which reflects real people's feelings quite well. Usagi loves Mamoru and her dedication to him doesn't really waver. She has also been shown to find other girls in the series attractive, most prominently Rei when she first showed up, and here she is clearly attracted to Haruka as well. Beyond this other girls in the series have feelings of attraction to other girls. Haruka seems to exclusively like girls. Michiru loves Haruka but also seems attracted to other men. While many of the women in the series are attracted to men, they are comfortable in also being attracted to women. This really is a great way to portray characters as they aren't terribly bogged down by labels or preconceptions. No doubt viewers and readers dealing with similar feelings appreciate seeing such things portrayed in a series they watch.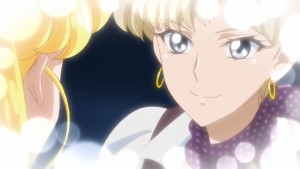 Everyone is sharing the same dream in this episode. Last week we had a few people having a shared dream, voiced by Hotaru, but it was somewhat limited. Here all of the main Sailor Guardians are getting the same dream this time voiced by Haruka. Things are so different in an anime series than in a manga. If we see a statement made on the pages of a comic we don't really know who is saying them. In a series with voice actors there's a bit more revealed. The dreams are all about talismans, and no one seems to know if they are good or bad, or what they should do about them. Not really useful. The real prophetic dream which we see is Usagi's vision of Haruka. She's dreaming about her kiss and seems to have a good idea that Haruka is the Sailor Guardian who kissed her. She sees here as male and female but the female version she sees has a scarf and vest which aren't actually seen until later in the episode. Sounds like some magic dreaming prediction! Of course in a series full of magic with dreams already predicting the future in this episode, this explanation doesn't seem to be terribly out of place.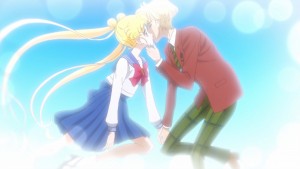 While discussing Mugen Academy the cats mention the Tokyo Bay reclamation project. I didn't really understand what this term meant at first so I looked it up and in this context it's referring to filling up the Bay with some sort of fill to make new land and building that up. This certainly makes sense in the context of what is going on. We're in downtown Tokyo which is space which has been inhabited in some form or another for hundreds of years. It doesn't make sense that there would be room for all of these new constructions but if Tokyo Bay was filled in to do this, we understand where all of these buildings are coming from. There is a lot of precedent for this in the real world as a lot of Tokyo Bay is reclaimed land, which has changed the shape of the shore line over time. About 250 square km (100 square miles) have been reclaimed from Tokyo Bay.
Chibiusa is all about secrets this week! Hotaru totally knows her secret and then Hotaru basically tells her that her father is making monsters. This should be a big deal and if Chibiusa acts on this it's game over for the season but she doesn't. When she seals the promise with Hotaru they lock their pinkies. This reminds me of Kazuko and Hiromi from episode 21 of the original anime, Protect the Children's Dreams: Friendship Through Anime. When Chibiusa goes on a helicopter ride she promises not to divulge what she discusses with Haruka or Michiru. Why are these two even taking this gamble? We will see next week how well she hides this. Chibiusa seems really impressed with flying in a helicopter. Normally I would agree that this is a big deal but let's not forget that Chibiusa literally flies through time, so I'm thinking a helicopter ride to her would be like me going for a horse pulled wagon ride through an overgrown pumpkin patch. The helicopter drops Chibiusa off in the middle of the street and the townspeople are rightfully disturbed by this.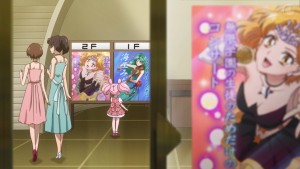 There's a concert. Actually there are two concerts. These are in the same building on different floors at the same time. How practical is this? You know when you're in a movie theatre watching a quiet drama and in the next theatre there are a bunch of Autobots killing Decepticons and you can hear the vibrations from the explosions coming through? I imagine Mimete's loud pop music in a massive auditorium might have some bleeding out onto the classical violin performance that Michiru is doing. Anyway there's a bunch of drama over tickets here! Haruka gives Usagi a bunch, which she shares with her friends, but in comes Mamoru who got tickets from Michiru. He was going to share them with his girlfriend, but she's already going so he takes Chibiusa. Rather than communicate, which good couples should do in order to avoid misunderstandings and conflict, he just doesn't say anything and runs into her at the event. Good plan bro! There are all sorts of concerns going on now with Usagi having been kissed by a girl and Mamoru maybe doing something with Michiru.
While everyone but the cats seemed covered with tickets for Michiru's concert, the real show that Minako wants to see if Mimete's. This is a concert which is offered free to Mugen Academy students and in order to prove your attendance to that school you seem to only be required to wear a school uniform. Minako has a plan which involves using her old compact from her Sailor V days. The Sailor Moon manga follows the Sailor V manga, but Sailor Moon Crystal hasn't really touched on this much. In Codename: Sailor V Minako would use this to transform into various things much like Usagi does with her transformation pen. In the original Sailor Moon anime Minako does not have access to such an item as when she disguises herself as Sailor Moon in Sailor Moon S she states that she borrowed Usagi's pen to do so, which she should not need to do if she had the ability to do so with her compact. This makes one wonder where old transformation items end up. The ones that aren't hurled into masses of evil energy or dropped in alternate dimensions before the world is recreated I mean.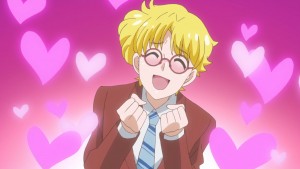 Anyway Minako decides to transform into a boy. An odd decision since there are a lot of female fans at the concert, but this is something she choses to do. It was nice to see this scene actually remain in Sailor Moon Crystal. Back in Act 5, when Sailor Jupiter first appeared, the manga had Usagi transforming into a man at the bridal shop. For whatever reason this transformation was not included in Sailor Moon Crystal and some fans speculated that it was because it had a character changing their gender. Whether or not this was truly the reason this does not seem to have been a problem with this episode. While posing as a boy Minako is clearly attracted to Mimete, complete with the hearts all around. Mimete of course is evil and part of the Witches 5. They don't mention her power level but it's 40. Why are we sending the weakest one second? This is a messed up RPG strategy.
Finally the two new Sailor Guardians reveal themselves to be Sailor Uranus and Sailor Neptune. Did anyone not know these names at this point? They also use their attacks which is cool enough.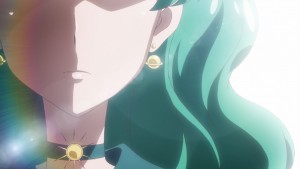 Next week is Act 30, Infinity 4 – Sailor Uranus – Haruka Tenoh – Sailor Neptune – Michiru Kaioh. In it Sailor Mercury faces off against Viluy of the Witches 5. She's power level 202 if that seemed important to you.
Keep reading for more screenshots from this episode and the next episode preview for Act 30.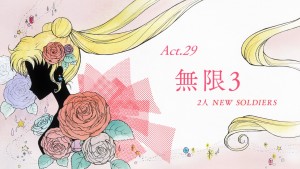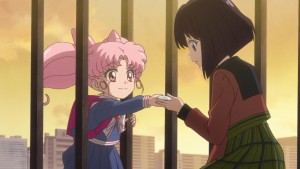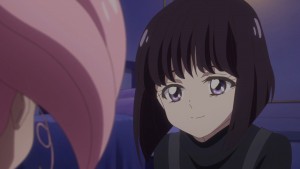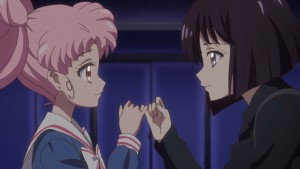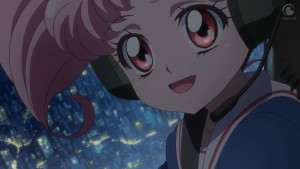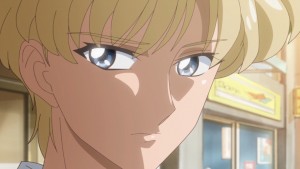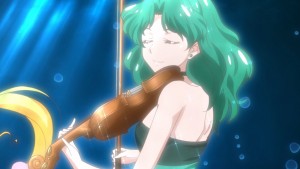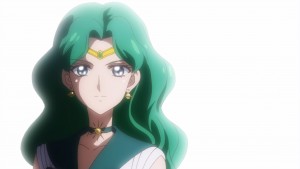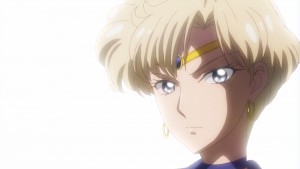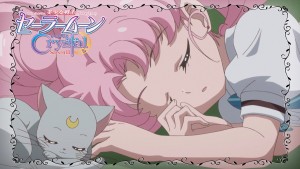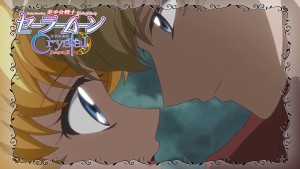 Possibly Related Posts