We're getting that much closer to the end of Sailor Moon S with the two latest episodes added to Hulu and Neon Alley. This week with episodes 122 and 123 we get introduced to three more members of the Witches 5!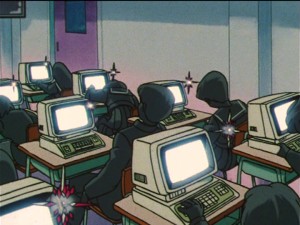 Episode 122, Believe in Love: Ami, the Kindhearted Guardian, is a total Sailor Mercury episode. In fact it's very reminiscent of her first episode in which the Dark Kingdom uses computers to try to drain Crystal Seminar students' energy to feed to Metalia. This week the Death Busters are using computers to steal Mugen Academy students' Pure Hearts to feed to Hotaru. As we are getting close to the end of the season we need to go through more of the Witches 5 and so we are introduced to Viluy. Viluy poses as a student at Mugen Academy, Yui Bidou, and in doing so she crosses Ami who is investigating the school. She is very intelligent and we learn that the research done at Mugen Academy is not only cutting edge for the mid 90s but actually quite ahead of anything we've done by 2015. She has an army of nano robots. Nano robots or nanobots are miniscule robots which, when working as a team, are capable of great feats such as turning the world into grey goo. We have nothing close to what is portrayed in this episode in existence today as nanotechnology is still in its early stages. Viluy uses these robots to attack the Sailor Guardians but when her bracelet is damaged they end up turning on her which kills her. This episode continues to ask us moral questions as Ami defends Hotaru from Haruka and Michiru who want to kill her in order to save the world from destruction.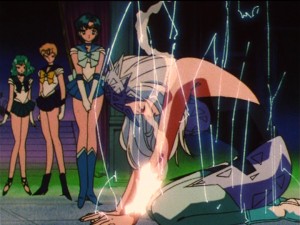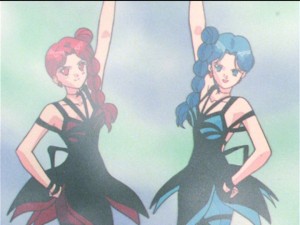 Episode 123, Shadow of Destruction: the Messiah of Silence Awakens, introduces us to the final two members of the Witches 5. Cyrpine and Ptilol are considered to be a single member of the Witches 5 because of reasons I don't pretend to understand. Do we refer to twins as a single entity? Then why are we calling a six member team the Witches 5? I think it's nonsense personally, but that is what they are called. How much can they be considered to be a single person when they end up attacking each other? Things get pretty serious in this episode as Kaolinite kidnaps Sailor Chibi Moon. Her Pure Heart is so great that when it's fed to Hotaru she transforms into Mistress 9. This leaves Chibiusa near death as Mamoru needs to use his own body's energy to sustain her life. The gang is now ready to confront Mistress 9 and the Death Busters in the next handful of episodes. They missed their chance to kill Hotaru while she was young and defenseless. We'll see what kind of destruction she will bring now. A funny scene in this episode shows Professor Tomoe adjusting his glasses with his middle finger, making it seem like he's making a rude gesture.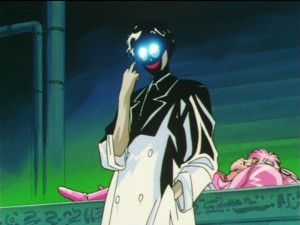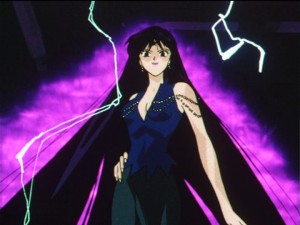 Support the site by buying episodes of Sailor Moon, subbed and dubbed by Viz, using the links below.
Possibly Related Posts