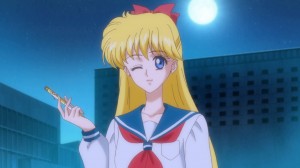 Sailor Venus is here! In the latest episode of Sailor Moon Crystal, Minako – Sailor V, we are introduced to Minako Aino, Sailor Venus and her trusty "partner" Artemis. I put "partner" in quotes because I'm totally shipping these two. The episode is available on Crunchyroll, Hulu and Niconico. The main theme of this episode? Winking! Minako just loves winking, and it's getting contagious! Artemis winks twice and Mamoru winks at Usagi in this episode. It's a winking epidemic!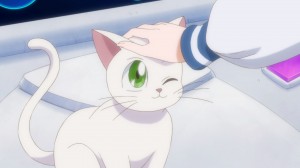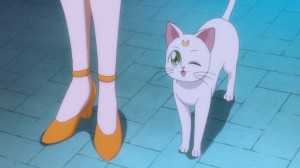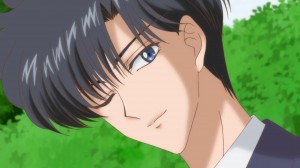 This episode is a big lie! Princess Serenity is revealed to be Sailor Venus which is complete nonsense. The identity of Princess Serenity is the worst kept secret in Sailor Moon! All flashbacks of her clearly show her to have very Sailor Moon like hair. Sailor Moon gets a new tiara this week with a crescent moon like Princess Serenity's on her forehead and of course there's the simple fact that the Moon Princess is from the Moon, which is what Sailor Moon is named after. Somehow we continue to act as if it's a legitimate mystery. Usagi has dreams where she's called Serenity by Endymion who's face is also obscured. So who is Endymion supposed to be if not Mamoru? Shingo? Motoki? Kenji Papa? There aren't many contenders here.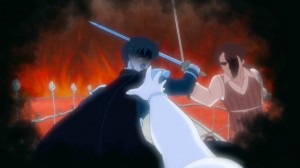 Things with the Shitennou continue to deviate from the manga. Zoisite is still alive and escapes. The original manga story has Kunzite talking to Zoisite's decomposing body and eventually has him die as well, but none of this happens. In the next act the Shitennou are supposed to be brought back to life thanks to the power of the Silver Crystal, and then turned into gems. Perhaps they will just be turned directly into gems, or perhaps things will progress differently. We shall see! The past association between the Sailor Guardians and the Shitennou continues to be alluded to as Sailor Venus makes mention of Kunzite's true past. This is likely something that will be revisited in a future episode. Kunzite kisses Beryl's hand in this episode. How will Minako feel about this, assuming they get all hooked up like they should.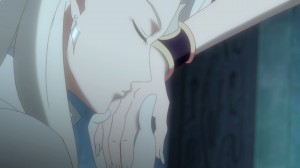 Kunzite uses Tokyo tower to essentially kill everyone in town, only in this anime version the people are seemingly alive and just having their energy drained, not partially decomposed corpses. Jupiter is meant to sense the effects of the blackout, due to her association with lightning and electricity, but instead Sailor Venus approaches Kunzite alone. This makes sense given she is basically a shield for the true Princess. When the rest of the Sailor Guardians come in, Jupiter is flying while carrying the rest of the girls. Cool trick!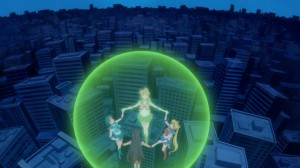 Minako uses her transformation pen to transform. This is what she used to transform into Sailor V and Sailor Venus in the manga. Her transformation is full of ribbons. She uses her Crescent Boomerang attack in this episode, which is the attack she also used as Sailor V in the Codename Sailor V manga.
As the battle progresses we take a brief moment to share Sailor Moon and Tuxedo Mask's first consensual kiss. This is important since the last kiss we got had Tuxedo Mask taking advantage of an unconscious Sailor Moon. Good thing they got this in, as Tuxedo Mask is then wounded defending Sailor Moon, as seen in the episode preview. Yes, the very last moment of the episode was in last week's preview.
Next week is Act 9, Serenity – Princess. For all the stagnating deceptions of this week's episode, the next episode will be jammed packed. Tuxedo Mask is severely wounded and kidnapped by the Dark Kingdom. The past events of Silver Millennium are revealed. Princess Serenity and Endymion are revealed. The Silver Crystal is revealed. All this an more coming Saturday November 1st.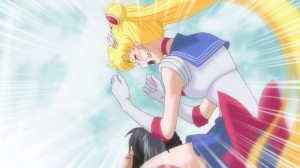 Keep reading for more screenshots from this episode and the next episode preview.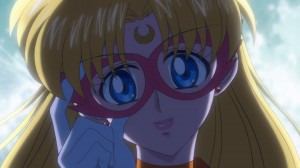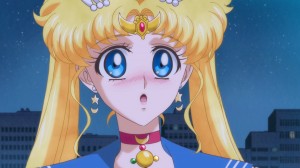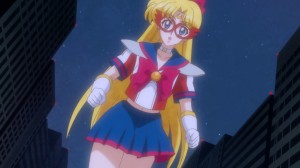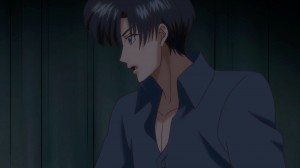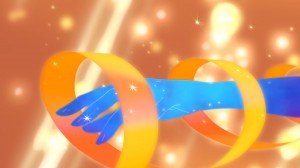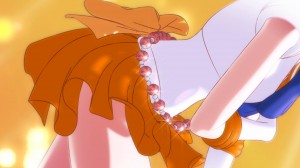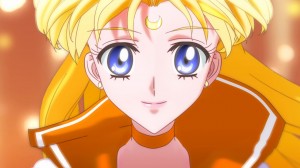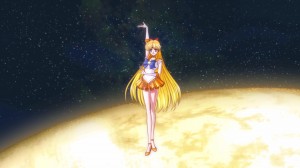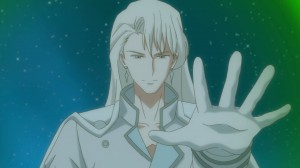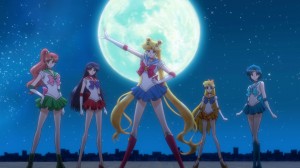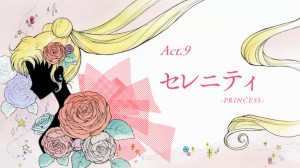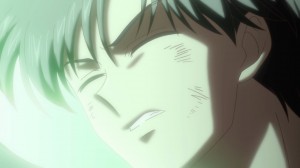 Possibly Related Posts