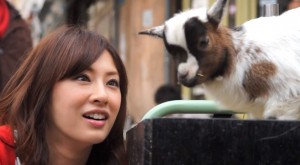 Keiko Kitagawa, the actress who played Sailor Mars in the live action Pretty Guardian Sailor Moon series, has a new promo out for her upcoming photo book. The book, titled "27", will be released on her 27th birthday on August 22nd. Photos were taken in Japan and in Paris where people are known for eating ice cream and looking at baby goats. Check out this short promo for an idea of what some of these photos will look like.
The promotional material keeps referring to this as her first photo book though this isn't really the case. I'm sure this is true using some arbitrary criteria. You can preorder the book from Amazon Japan for about $29 US. They will ship internationally though it won't be cheap to do so. The book is in Japanese but it's a photo book so who cares if you can't read it? Keiko is pretty in any language. Check her out swearing in English for an example of this!
For more on this book check out the official site.
Possibly Related Posts