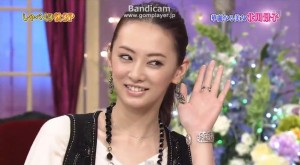 This past Monday Keiko Kitagawa, Sailor Mars from the live action Sailor Moon series, appeared on the Japanese talk show Shabekuri 007 (しゃべくり007) to promote her new series Akumu-chan. I can't say I've ever seen this show before or really know much about it. In fact I can't really tell what the title even means. This seems to have a game show type format with a number of Japanese comedians but without any real points or prizes at stake. I'm sure it's quite hilarious if you know what they're saying… maybe…
The show has been uploaded to YouTube in six parts. I've put those into a playlist and embedded it below for your convenience:
I'd watch Keiko read the phone book so I'm happy to watch this too.
I understand the first episode of Akumu-chan is in the process of being translated. We'll post more information about that when this is complete.
Keep reading for Keiko's new Citizen watch commercial …
Possibly Related Posts