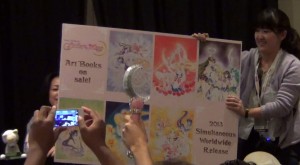 A Sailor Moon fan has recorded a part of the Kodansha Comics USA panel from last weekend's New York Comic Con which includes the portions relevant to Sailor Moon. The video embedded below has been cued up to when the Sailor Moon discussion begins.
This panel began with the announcmeent of a new Sailor Moon art book for 2013 that we previously discussed on the site. This art book is being put together in Japan and the details are sparse. The Sailor Moon manga box set was then mentioned. These are not new versions of the books, though typos and errors are corrected with reprints so some minor issues may be corrected in these. This followed with a reading of a letter from Naoko Takeuchi to American fans.
Thanks to Senshi_chan for recording the video.
Possibly Related Posts