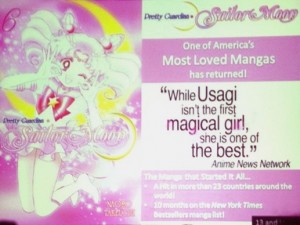 On Thursday at San Diego Comic-con Kodansha, publisher of the Japanese Sailor Moon manga and the current US translations, held a comic panel where the main topic of interest was Sailor Moon. Anime News Network and Anime Diet covered the event. Here are the important details!
Information about the 2013 anime series was repeated. It was mentioned that while Kotono Mitsuishi is hoping to get the job as the voice of Sailor Moon that casting has not in fact happened yet.
The new editions of the manga will have a US release and will include colour pages.
There appears to have been a lot of people complaining about various quality issues with the manga translations currently being released (available in our amazon store…) and one rep from Kodansha was quoted to have said "There are some people on Twitter that are kind of mean". Welcome to the Internet! All in all Sailor Moon is their top selling book so they are doing quite well despite all those mean people who are likely still buying their book because hey it's Sailor Moon so who cares about a few problems, just buy it!
Aside from that there were a lot of things they weren't able to comment on, and I see no point in reiterating that stuff.
Possibly Related Posts