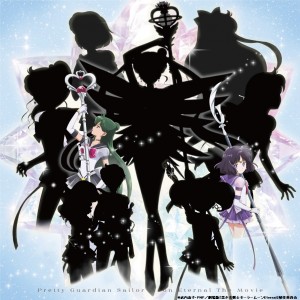 The Sailor Moon movie Twitter account is running a retweet campaign where every 630 times a tweet is shared, two new characters on the Sailor Moon Eternal DVD and Blu-ray box art will be revealed! As of now we have seen the first image which includes Sailor Pluto and Saturn. Fans should retweet this tweet, which is embedded below, to make this happen sooner.
/
6月30日(水)発売
劇場版「#美少女戦士セーラームーンEternal」
ジャケットイラスト公開キャンペーンが決定
\

キャンペーン参加方法
1) このツイートをRT
2) 発売日にちなみ630RT達成で該当キャラクターのジャケットイラストを公開

詳しくはこちらhttps://t.co/f27mJfk8Q9 pic.twitter.com/ZHUk84jyNX

— 劇場版「美少女戦士セーラームーンEternal」@6/30BD・DVD発売 (@sailor_movie) May 31, 2021
Seeing as the Tweet has already been shared over 3,200 times as I write this post and there are only five images to be released, I think the hard work is done! Fives times 630 is 3,150 so I expect all goals have been reached. The account and official site mention that on the day after hitting a milestone a new image will be released. It's not clear at this point if we should expect one new image every day or if they'll just reveal the last image tomorrow as the highest level of retweets was met. 630 is a reference to the June 30th release date of the movies on home video. This isn't a terribly high bench mark! The Sailor Moon official account frequently achieves thousands of shares for many of their posts without needed to motivate people with these kind of rewards. Below is a breakdown of what characters will be revealed with each milestone.
1: Eternal Sailor Pluto and Eternal Sailor Saturn (630 retweets)
2: Eternal Sailor Uranus and Eternal Sailor Neptune (1260 retweets)
3: Eternal Sailor Jupiter and Eternal Sailor Venus (1890 retweets)
4: Eternal Sailor Mercury and Eternal Sailor Mars (2520 retweets)
5: Eternal Sailor Moon and Eternal Sailor Chibi Moon (3150 retweets)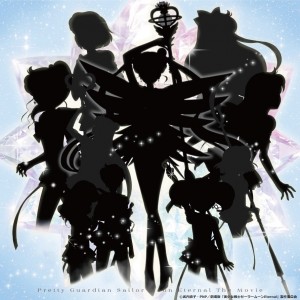 Worth noting is that the box art is square. Atypical for a Blu-ray or DVD release however the previous Sailor Moon Crystal Blu-ray sets have all been square. The season 3 sets were smaller than the earlier much larger boxes, but they were all square.
Fans looking to import this Japanese Blu-ray or DVD set now have the option to pre-order them from Amazon Japan. I had issues ordered a few things from the site recently as they always showed that they weren't in stock but pre-orders are now available for a number of DVD and Blu-ray options. There are a number of price points depending on what kind of bonus items will be included. I opted for the limited edition Blu-ray without the pre-order incentives because I had trouble justifying paying $30 for a file folder and another $30 for a lithograph. But if you're really cheap just put that money towards a Netflix subscription and watch the movie there.
Keep and eye out on the official site, news site and movie Twitter account to see the new images shared every day. I don't expect I'll be updating the site or this post with every individual image, but I'll probably retweet them on my own Twitter account.
Possibly Related Posts