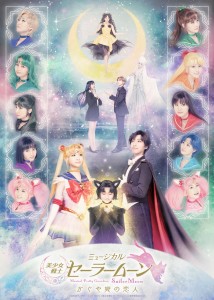 The poster and cast information for the upcoming Princess Kaguya's Lover musical have been released. The post was up on the Sailor Moon official site briefly last night after which it was removed. It has now been reposted and the musical site has been updated with information from this musical. I didn't catch the post when it was first online however I quickly saw the poster shared from a number of Sailor Moon fans. The poster gives us some interesting information. Luna is featured twice! It looks like the Luna in black is meant to be cat Luna while the one in the Human Luna yellow dress would be her when she transforms into a human late in the story. Also featured are Kakeru, Himiko and Princess Snow Kaguya. All ten Sailor Guardians appear which is noteable for the inclusion of Sailor Saturn. Canonically this story takes place between the Infinity Arc and the Dream arc when Hotaru is still a baby. Haruka, Michiru and Setsuna appear in the manga and I guess they got a babysitter for Hotaru during that time. The official site does mention that this is her first appearance in this story. Artemis is not on the poster and is not in the cast list. Perhaps he'll be a plush toy or something.
I was happy to see that the Facebook page "We Are The Pretty Guardians- Sera Myu" shared the names of the entire cast as well as social media links for many of them. When this sort of cast information is posted to the official site I usually spend some time searching names and plugging them into online translators to try to do the same so I'm glad to see that someone has already done the hard work here. Please give their page a follow if you're on Facebook.
Below I've included a cast listing with links to Twitter and Instagram accounts when they exist. I've opted for the western given name first, family name second order as I usually do on this site although the source I'm using follows the Japanese practice of family name first and given name second. This is an all new cast. There is no one returning from Le Mouvement Final, which was many years ago, though this musical is continuing with the tradition of an all female cast. There are two Chibiusas which is not uncommon for young actresses given Japanese child labour laws.
Sailor Moon/Usagi Tsukino – Riko Tanaka (Twitter, Instagram)
Sailor Mercury/Ami Mizuno – Kanon Maekawa (Twitter, Instagram)
Sailor Mars/Rei Hino – Rei Kobayashi (Twitter, Instagram)
Sailor Jupiter/Makoto Kino – Kisara Matsumura
Sailor Venus/Minako Aino – Marin Makino (Twitter, Instagram)
Sailor Chibi Moon/Chibiusa – Yurika Kobayashi
Sailor Chibi Moon/Chibiusa – Erena Kamata (Instagram)
Sailor Uranus/Haruka Tenoh – Shinju Terada (Twitter, Instagram)
Sailor Neptune/Michiru Kaioh – Ayana Kinoshita (Twitter, Instagram)
Sailor Pluto/Setsuna Meioh – Minami Chisato (Twitter)
Sailor Saturn/Hotaru Tomoe – Yuka Ide (Personal site)
Tuxedo Mask/Mamoru Chiba – Riku Sorahane (Instagram)
Cat Luna – Sakurai Yune
Human Luna – MARISA (Twitter)
Kakeru – Natsume Oki (Twitter)
Himeko Nayotake – Nanami Tamai (Twitter, Instagram)
Princess Snow Kaguya – Sayaka Okamura (Twitter, Instagram)
Snow Dancers – Moeko Koizumi, Ayumi Ozaka, Ayano Nagasawa, Yuri Hirano, Sakura Morimoto and Eri Yanagida
A lot of the actresses have done some stage work in the past. Riku Sorahane, who is playing Tuxedo Mask, seems to have the most extensive experience. Some of the Snow Dancers worked on previous musicals. Moeko Koizumi was previously in the Super Live musical as a backup dancer. I still haven't seen that musical! Ayano Nagasawa was in the Amour Eternal musical as one of the Dead Moon Circus.
With the musical coming up in September there are still some travel restrictions in place in Japan for foreign visitors. Are any of you expecting to be able to see this musical or are we all holding out for a home video release of some kind?
Possibly Related Posts