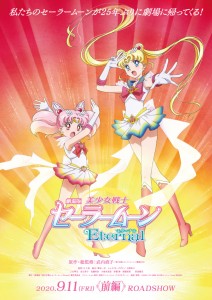 An update on the Sailor Moon Official Site gives us the release date of the first Sailor Moon Eternal film which will be hitting theatres in Japan on September 11th 2020. This includes a poster which shows us the image we've already seen and the release date.
The note on the official site as well as a longer text on the film's news section mentions that a poster will be available at the Tamashii Nations event on October 25th and that the back of the poster will include an image of Usagi and Chibiusa meeting Helios. I wonder if this will actually be Helios the human, who appears later in the story, of Pegasus the winged horse, the incarnation of Helios which appears in the earlier parts of the Dream arc. The details on the site also mention that this is the release date of the first Sailor Moon Eternal movie, confirming that this is still indeed meant to be two films.

The word "Roadshow" appears alongside this date on the poster and official site. This is a term used in Japan to refer to a limited release of a film prior to a wider release. Roadshow releases were common in the US until the 1970s when the practice was mostly stopped but this continues in Japan. This makes me wonder when a wide release of the film is planned in Japan, though ultimately this doesn't make much of a difference as my real concern is when the film will be released in North America. We have not yet received any details about the film's release outside of Japan.
Possibly Related Posts