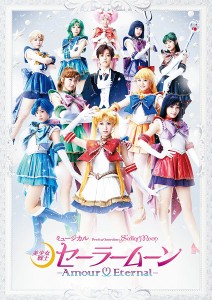 The latest Sailor Moon musical, Pretty Guardian Sailor Moon Amour Eternal, is coming to DVD in Japan on March 15th. This was announced on the Sailor Moon official site and the Evil Line web site. This DVD will be in Japanese only and region 2, which won't play on most North American DVD players. Why DVD and not Blu-Ray, you might ask? This is a question I've been asking myself for the past 3 musicals. Considering there was an HD stream of this musical, I'm a bit baffled we're still only getting a standard definition DVD. Hopefully we will at least getting a progressive scan DVD as opposed to the 480i releases we've gotten for the rest. A commercial for this release was posted to YouTube. Watch the embedded clip below.
The DVD is available to buy on Amazon Japan for 6,265 yen, about $55 US or on CD Japan for 7800 yen, $68.82 US. This 2 disc DVD set will include the musical and a number of special features. The musical itself is 2 hours and 43 minutes. An audio commentary by the 5 main actors is included but it isn't explicitly clear if this is referring to a full length audio commentary. The bonus disc will have 77 minutes of content. This includes an interview with Usagi, a video of the performance done on Usagi and Chibiusa's birthday, June 30th, and a special focusing on the Amazon Trio and Zirconia. Also included will be a 28 page booklet which is a sort of program with information about the musical.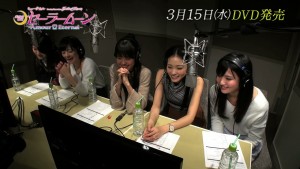 If you're looking to support the musicals I would suggest buying this DVD. Fans looking to watch the musical with English subtitles can download the fan subbed version released by Miss Dream.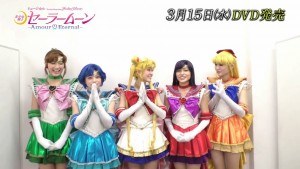 The Pretty Guardian Amour Eternal musical is the 4th in the latest wave of musicals. It cover the Dream arc of the Sailor Moon manga, the equivalent of Sailor Moon SuperS in the original Sailor Moon anime, which has the Sailor Guardians teaming up with Pegasus and facing off against Nehelenia and the Dead Moon Circus.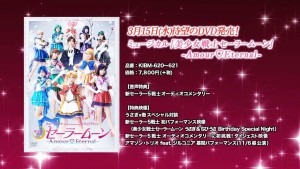 Possibly Related Posts