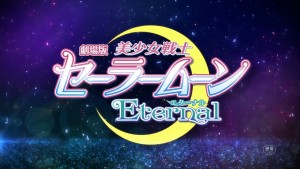 Let me preface this article by saying I absolutely don't think that Sailor Moon Crystal is done and I think that Sailor Moon Eternal is the first half of what could be considered the fourth season of Sailor Moon Crystal. That said there are a few hints which suggest other and I think it's only fair to share them with some analysis. As I reported on the other day, a new film called Sailor Moon Eternal is coming in 2020. What I did not notice at the time and didn't notice until I saw it mentioned on Twitter by Moonkitty, was that "Crystal" isn't found anywhere in the title. What does this mean? Is Sailor Moon Eternal even technically a Sailor Moon Crystal film? The full title is simply "Pretty Guardian Sailor Moon Eternal". The use of the original anime's opening theme Moonlight Densetsu in the trailer could similarly be an attempt to distance the film from the Sailor Moon Crystal series, though there has not been a single theme song used throughout all three seasons so this doesn't tell us much.
This brings me to something else I noticed in the booklet included with Sailor Moon Sailor Stars Part 1 Limited Edition Blu-Ray. There is an ad for Sailor Moon Crystal seasons 1 to 3 on home video which includes the caption "Own The Entire Series Today!". When I first saw it I simply laughed a bit, as fans had been waiting nearly three years for new Sailor Moon Crystal and here this ad was referring to everything we had previously gotten as the "Entire Series". Perhaps "The Entire Series To Date" would have been a more accurate caption! Could it be that Viz had already gotten word that the new film would not be using the Sailor Moon Crystal brand and that the series really was over?
I do still feel that this film is in every sense meant to be a continuation of the Sailor Moon Crystal story, and there hasn't been much to the contrary. Looking at the Sailor Moon Eternal announcement on the official site the first sentence refers to this as the movie version of Sailor Moon Crystal. The Dream arc was always advertised as a continuation to Sailor Moon Crystal, it was clearly indicated that it would be delivered as movies and that Kazuko Tadano would be working on the project, all of which are consistent with the news of this film. The official web site doesn't actually have "Sailor Moon Crystal" as one of the buttons in the header anymore. Instead there is one that says "Anime" in Japanese with the English word "Animation" underneath it. This link leads to information about Sailor Moon Crystal. It seems Sailor Moon Crystals seasons 1 to 3 as well as the Eternal film are all considered part of this Anime franchise which may not be as tied to the Crystal title as it was.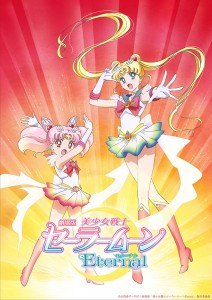 Why then are they not using the name Sailor Moon Crystal in the title? I can only speculate but I can think of a few reasons. The title "Pretty Guardian Sailor Moon Eternal" works well as is. Calling it something like "Pretty Guardian Sailor Moon Crystal Eternal" is not at all the same and keeping the full series titles could result in something very awkward like "Pretty Guardian Sailor Moon Crystal Sailor Moon Eternal" or every worse "Pretty Guardian Sailor Moon Crystal Pretty Guardian Sailor Moon Eternal". Try jamming all of that into a title! It would make the "Pretty Guardian Sailor Moon Sailor Stars" title seem short in comparison!
Another reason for not using the Sailor Moon Crystal name may simple be to reach a broader audience with the film. The original Sailor Moon anime was a massive phenomenon and having the Sailor Moon films attached to that series was just good business sense. I don't think Sailor Moon Crystal is anywhere near as popular in Japan or internationally. Tying the movie's branding too much to the Crystal title may attract the fans of the series who are almost guaranteed to see the film anyway, but what about the hordes of other Sailor Moon fans who spend massive amounts of money on merchandise and events but don't really care much about Sailor Moon Crystal? You tell them there's a new movie called Sailor Moon Eternal in theatres and they may be more likely to check it out than if it was clearly tied in to the Sailor Moon Crystal series.
Finally there's the fact that it's been over three years since we saw any episodes of Sailor Moon Crystal and this could be four by the time this movie is released in theatres. Some fans may be moving on from the franchise with new ones coming in, especially if the goal is to target a younger demographic.
As I said, this is all a lot of speculation on my part. I can't say for sure why they aren't using "Sailor Moon Crystal" anymore. I don't really think the series is over, as my intentionally alarming title might suggest, but this is certainly a conclusion some of you may feel the need to jump to! What do you think?
Buy the entire Sailor Moon Crystal series using the links below! You can also stream Sailor Moon Crystal on Crunchyroll, Hulu or Neon Alley.
Possibly Related Posts