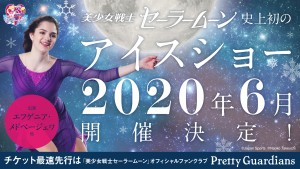 During the Usagi's Birthday event held on June 30th in Japan a number of things were announced, one of which was a Sailor Moon Ice Show, that being a figure skating show, which will be taking place in June of 2020. This was then shared on the Sailor Moon Official Site. Though we don't have many details of what this will be like it was announced that Russian figure skater Evgenia Medvedeva will be involved. I've posted about Evgenia Medvedeva on this site a number of times. She first made an impression on the Sailor Moon fan community with her Sailor Moon inspired figure skating routine in which she skated to Moonlight Densetsu, the original Sailor Moon anime's opening theme, and transformed into a Sailor Moon costume during her performance. She later met with Naoko Takeuchi who awarded her with a sketch. She's a dedicated fan of anime and Sailor Moon specifically. Below you will find a video of her comments, in English, on joining this show.
What will this show be all about? We can only speculate at this point. With only one star announced to date we do at least know that it will feature at least one professional figure skater. Will this be something like the Disney On Ice type of shows? Honestly I've never seen this kind of show so I wouldn't know where to start. If any of you are fans of figure skating shows, do you have thoughts on what this might be like?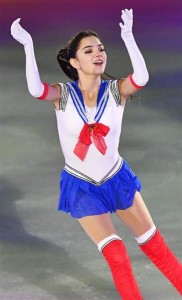 Though skating isn't referenced in the Sailor Moon manga the original Sailor Moon anime features skating in episode 39, Paired With a Monster: Makoto, the Ice Skating Queen. In this episode we are told that skating was the most popular sport in Silver Millennium. The Sailor Moon Another Story RPG for the Super Famicom also shows a skating rink on the Moon. It is certainly possible that the story of the Ice Show will reference this episode of the original anime.
As a Canadian I'm inclined to refer to this as simply "skating" and not "ice skating" because what else do people skate on? Are roller skates actually more popular than ice skates in some places? As the event is simply being called an "Ice Show" by official sources this is what I will call it as well.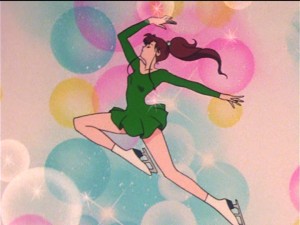 Possibly Related Posts