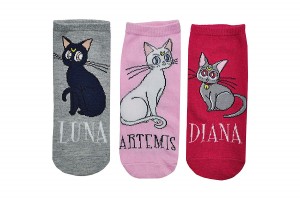 There's certainly been no shortage of Sailor Moon products in or out of Japan lately and this even includes socks! I was recently contacted by the folks at Everything Legwear to let us know about some of their Sailor Moon products. There are a ton of Sailor Moon socks that you can find on their Sailor Moon store on Amazon. The prices seem reasonable for sets of 2 to 5 socks for $13 to $20 with designs featuring many characters and symbols from the series. The ads below show a few of what I'm told are the more popular items. Though Sailor Moon News does not have a business relationship with Everything Legwear we do use Amazon ads so if you buy products through links in this post this site will get a commission.
We had previously heard that Everything Legwear had the Sailor Moon sock license in 2017 when License Global made an announcement about a large number of companies who had made merchandising deals with TOEI to distribute Sailor Moon product. These, and many other products, have shown up in stores online and in the real world.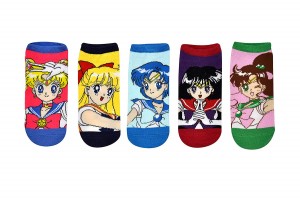 I once bought some Sailor Moon socks at EB Games and I'll be honest, none of them fit! Keep an eye on the sizes as a lot of these are women's socks which seems to indicate that this adult size 12 shoe wearing man isn't exactly the target demographic! Hopefully you have better luck!
Have any of you bought socks from Everything Legwear? What do you think of them? Do you plan on picking any of these up?
Possibly Related Posts