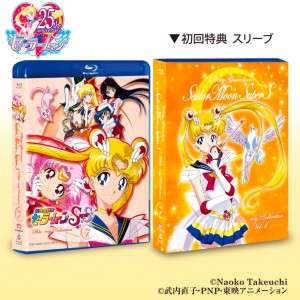 The next season of Sailor Moon will be released on Blu-Ray in Japan as Sailor Moon SuperS Part 1 and 2 are scheduled to be released. Part 1 will cost 19,800 yen, about $180 US, and be released on May 8th while Part 2 will cost 14,800 yen, about $135 US, and will be out on July 10th. These prices are probably a bit higher than what it will ultimately cost. Both sets are up for pre-order from Amazon for a bit less. There are two versions listed there, as is the case with other retailers, where the one with the vendor exclusive incentives cost significantly more. Note that these are Japanese releases with no English audio or subtitles. If the other seasons are any indicators they are of decent quality compared to the North American releases but still a software upscaled version of standard definition sources. Japan, like North America, is region A so these will play in a North American off the shelf Blu-Ray player or PlayStation system.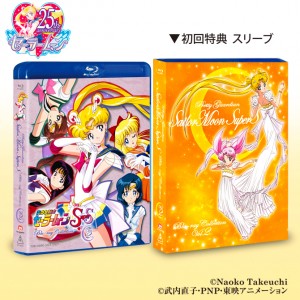 According to the TOEI web site each of the sets includes 22 episodes which is almost certainly incorrect. Sailor Moon SuperS is episode 128 to 166, a total of 39 episodes. The price discrepancy between the sets likely indicates that there are more episodes on volume 1 than volume 2, which has been the case with past sets. It's likely that volume 1 includes 22 episodes, plus the Sailor Moon SuperS Special, while volume 2 includes the remaining 17 episodes. This would actually split the sets up quite well into the 22 episodes featuring the Amazon Trio and the 17 episodes featuring the Amazoness Quartet. The Amazon Japan listing states the length of volume 1 to be 573 minutes, which accounts for 22 episodes plus the hour long special, while volume 2 is stated to be 405 minutes, which would account for 17 episodes. This assumes roughly 24 minutes per episode without commercials.
Other special features are sparse as always. We have the 15 second commercials for each episode as well as the lower quality (non super) creditless opening and ending credits. Since Sailor Moon SuperS has two ending themes one would assume that each set will have one of the end credits.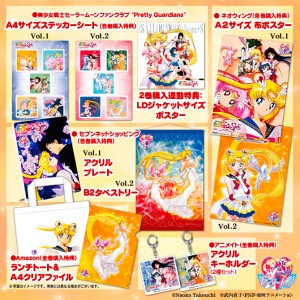 As always there are a bunch of vendor exclusive incentives. These include posters, stickers and other little knick knacks. In some cases these will come with each volume but with others you have to buy each. This is an annoyance for me as I do not live in Japan and the exclusives needing both volumes aren't shipped with either order but need to be ordered separately. There are individual images of all of the exclusives below.
The Official Fan Club exclusive is an A4 sized (8.27″×11.7″) sticker sheet for the individual volumes as well as the laser disc box sized poster for those buying both versions. Note that this is for the Japanese Sailor Moon fan club and not the International fan club.
The Seven Net exclusive for volume 1 is an acrylic plate, something which we used to refer to as pencil boards, a small hard sort of poster. The volume 2 exclusive is a B2 sized (19.7″×27.8″) tapestry.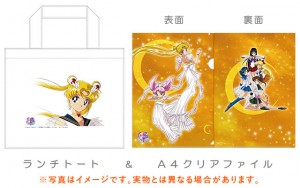 The Amazon Japan exclusive requires buying both volumes and includes a lunch tote (a small bag) and an A4 sized (8.27″x11.7″) tapestry.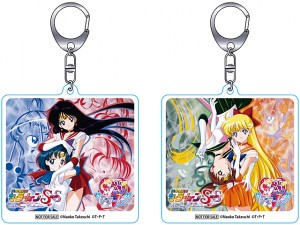 The Animate exclusive, coming with the purchase of both volumes, is an "acrylic key holder" which is a sort of laminated card which I guess you could put your keys on if you didn't actually want to put them in your pocket.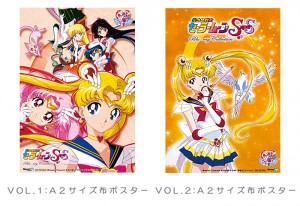 Finally the Neowing exclusive are large A2 sized (16.5″×23.4″) cloth posters. There's one that's included with each volume.
Possibly Related Posts