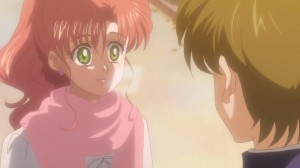 The latest episode of Sailor Moon Crystal will be released in English this Friday at 9pm Eastern Time, 6pm Pacific Time, on Hulu and Neon Alley. This week we get Act 5, Makoto – Sailor Jupiter, which introduces us to yet another Sailor Guardian. Makoto Kino is a new student at school and her and Usagi become instant friends. The episode focuses on a Bridal Boutique which is at the center of the Dark Kingdom's plot. Fans will see an obvious similarity to Sailor Jupiter's first appearance in the original anime in episode 25, Jupiter – the Powerful Girl in Love, but also to episode 16, A Girl's Dream: Usagi Becomes a Bride, which centers around a wedding dress contest. This is a bit backwards of course. This episode of Sailor Moon Crystal is based on the equivalent chapter of the manga, as all episodes are. The original anime is more loosely based on the manga which accounts for these similarities.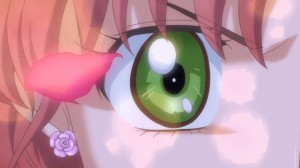 The English voice of Makoto Kino is provided by Amanda C. Miller who also voiced her in the new English dub of the original Sailor Moon anime. You can follow her on Twitter at @amanda_celine. Let us know what you think of her voice!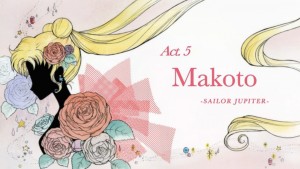 Edit: The title originally said Act 4, though the content reference Act 5, which is the actual episode we are getting this week. This was a copy/paste error. It has been corrected.
Possibly Related Posts