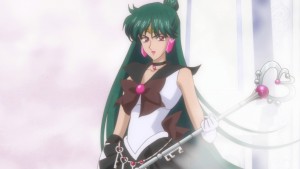 The next episode of Sailor Moon Crystal, Act 19, Time Warp – Sailor Pluto, will become available to stream on Crunchyrull, Hulu and Niconico starting this coming Saturday April 4th. The show will be available starting at 7pm Japan Standard Time which is 6am Eastern Time, 3am Pacific Time. This week the gang travels to the future and meets Sailor Pluto, the guardian of the Space-Time Door.
Sailor Mercury, Mars and Jupiter remain kidnapped leaving just Sailor Moon, Sailor Venus, Tuxedo Mask, Luna and Artemis to travel to the future with Chibiusa to save her mother. On their trip to 30th Century Crystal Tokyo they are confronted by Sailor Pluto. Will she kill them for trying to travel through time?
More importantly this week Mamoru and Usagi appear to have some sex. Is this the first time this happens? That's not something we could pretend to understand. It's been a year since Usagi first slept at his place and a lot can happen in that time. Indeed it's debateable what even happens here but Mamoru grabs Usagi, lays her down and starts kissing her right before an abrupt scene transition to where Luna and Artemis are also shown sleeping together. They usually sleep in different houses so it does not appear that any sexual activity has happened between these two, but it will at one point in the next 1000 or so years! This episode will briefly feature Diana, Luna and Artemis's daughter from the future. Her voice actor was confirmed earlier this week as being Shoko Nakagawa, an actress and singer best know for being on the Pokémon Sunday variety show.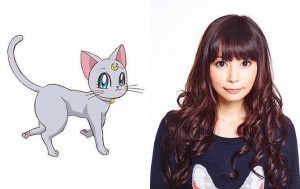 Possibly Related Posts