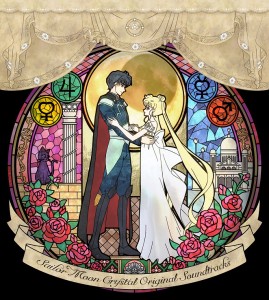 A Sailor Moon Crystal soundtrack will be released on December 24th in Japan. This soundtrack will feature background music from the entire first year of the Sailor Moon Crystal anime. This two disk set will include the Dark Kingdom story arc which will soon be completing as well as the Black Moon Clan story arc, sometimes referred to as the second season, which will begin in January 2015. The track information given on the Sailor Moon official site as well as the Evil Line Records site clearly shows it spanning until the end of the Black Moon Clan arc with 2nd disk titles including "Sad Black Lady" and "Through the Gate of Time".
The cover art is included above. It includes Prince Endymion, Princess Serenity and Luna in a stained glass window style. You can order the CD from online retailers such as Amazon Japan, CD Japan or YesAsia. MSRP is 3000 yen, about $25 US.
As I have mentioned many times I do not speak Japanese but here is what I can piece together from the track listing with the help of Google Translate. I tried to make sense of the names but some of them are total guesses based on some broken English because translation software is impressive but we're still in 2014.
DISC 1

Prelude: The Lengend
1. Legend of the Moon

Chapter I: Make Up!
2. Moon Prism Power Make Up!
3. Star Power Make Up!
4. In The Name of the Moon I Will Punish You!

Opening Theme
5. Moon Pride (TV Version)

Chapter II: Tuxedo Romance
6. Tuxedo Mask
7. Mamoru's Theme

Chapter III: Sign of Phantom
8. Shadows lurking in the darkness
9. Beginning of the grotesque

Chapter IV: Pretty Guardians
10. Sailor Moon's Theme
11. Sailor Mercury's Theme
12. Sailor Mars's Theme
13. Sailor Jupiter's Theme
14. Sailor Venus's Theme

Chapter V: Girls' Holiday
15. Bright Sunlight
16. A New Day Has Begun
17. It's Not Good, I'm Goofy ???
18. Every Day Wonderland ???

Chapter VI: The Ordeal of Love
19. Evil Tuxedo Mask
20. Conflicted Mind
21. A Deep Sorry
22. Love Again

Chapter VII: The Battle
23. Shock
24. The Darkness Attacks
25. Moon Healing Escalation!
26. The Sailor Guardians of Love and Justice

Chapter VII: Friendship
27. The Bonds of Love
28. Irreplaceable Friendship
29. Moments of Peace

Intermission
30. Sailor V Game

DISC 2

Chapter IX: The True Face of the Sailor Guardians – Pretty Girls
1. Usagi's Theme
2. Ami's Theme
3. Rei's Theme
4. Makoto's Theme
5. Minako's Theme

Chapter X: Small Stranger – Little Moon
6. Chibiusa's The
7. Dazzling World
8. Dreamy Waltz

Chapter XI: The Return of Phantom
9. More Darkness Than Ever
10. Anxiety and Impatience
11. Tragic Battle

Chapter XII: Sad Black Lady
12. Black Lady
13. Quiet Sorry
14. Unleashed Anger

Chapter XXII: Through the Gate of Time
15. Door
16. Sailor Chibi Moon's Theme

Chapter XIV: Determination
17. Omen of Doom
18. A Prayer to the Moon
19. Decision to Chest ???

Chapter XV: The Final Battle
20. The Final Battle

Chapter XVI: The Miracle of Love
21. Love Theme

Final Chapter: Finale: To The Future
22. A Refreshing Wind
23. The Story Will Continue Tomorrow ???

Ending Theme
24. Moonbow (Gekkou) (TV Version)
Possibly Related Posts