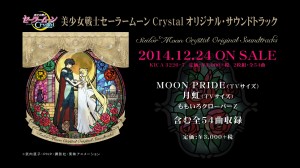 The official Sailor Moon YouTube channel has posted an 8 minutes and 51 second preview of the music from their upcoming two disk Sailor Moon Crystal Soundtrack. Included in this preview are a number of tracks such as the various Sailor Guardians' themes which haven't been featured in the show yet. Watch the clip below!
The soundtrack will be released on December 24th and will feature music from the Dark Kingdom and Black Moon Clan story arcs. Check out this earlier post for a full track listing. You can pre-order the CD from Amazon Japan, CD Japan or YesAsia.
Thanks to Dulcyn from our comments for finding this video.
Possibly Related Posts