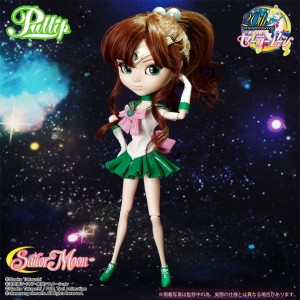 The Sailor Jupiter Pullip doll has been revealed on the Sailor Moon official site. The doll follows Sailor Moon, Mercury, Mars, Venus and Princess Serenity which have already been released. Why do we keep getting Sailor Venus products before Sailor Jupiter products despite Sailor Jupiter being the first to appear in the manga and anime? Not sure. Maybe it has something to do with Sailor V or character popularity.
Pullip dolls are high quality oddly proportioned dolls with large heads and eyes. This one will retail for 16,000 yen, about $135 US. It's expected to sell for the same amount as the dolls which have already been released. The Bandai Premium exclusive version will be more expensive and, based on the other releases, will likely come with Makoto's school uniform. We'll share photos of that exclusive once they are revealed.
Support the site by taking out a bank loan and buying Pullip dolls from the links below.
Possibly Related Posts