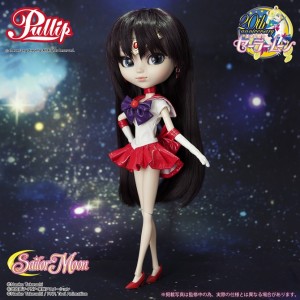 The latest Sailor Moon Pullip doll has been announced. Next in this line of dolls is Sailor Mars! Previously released were Sailor Moon, Mercury and Venus and Princess Serenity. Sailor Mercury and Venus both included civilian school uniforms as their Bandai exclusive bonus. No specifics have been announced about Sailor Mars but it would make sense that she would also come with a school uniform when ordered from Premium Bandai. Sailor Moon came with Luna but as Sailor Venus did not come with Artemis it seems unlikely that Phobos and Deimos will be included as exclusive bonuses.
Pullip dolls are high quality very expensive dolls with disproportionally large heads and eyes. Though there is no specific release date or price noted at this time, it can be expected to sell for $150 for the regular version and $180 for the Premium Bandai exclusive version.
Source: Sailor Moon official site
Buy or preorder other Sailor Moon Pullip dolls using the links below to support the site.
Possibly Related Posts