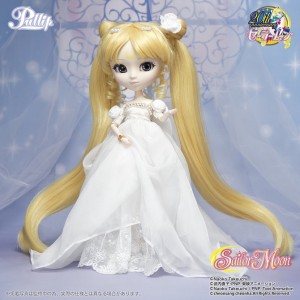 Yet another Sailor Moon Pullip doll has been announced on the official Sailor Moon site. This doll is Princess Serenity, Usagi's past self from her days in Silver Millennium, the Kingdom on the Moon. Princess Serenity joins the growing collection of dolls which now also includes Sailor Moon, Mercury and Venus. Still no indication as to when Sailor Mars and Jupiter will be released.
Pullip dolls are high quality somewhat realistic and somewhat creepy dolls with disproportionally large heads and facial features. While no price is listed on the site this doll is expected to sell for about $150 US with a special Bandai exclusive edition selling for close to $180. The exclusive Sailor Moon came with Luna, Sailor Mercury came with Ami's school uniform and Sailor Venus came with Minako's school uniform. What do you think the Bandai exclusive Princess Serenity will come with?
Buy or preorder other Sailor Moon Pullip dolls using the links below to support the site.
Possibly Related Posts