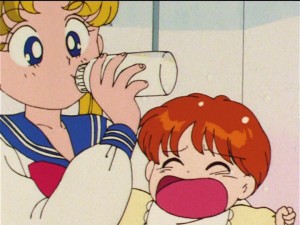 The two latest episodes of Sailor Moon R are now available on Hulu and Neon Alley. Every Monday two new episodes in Japanese with English subtitles by Viz are added to these streaming services. This week we have episodes 53 and 54 which focus on Sailor Mercury and Sailor Mars.
Episode 53, Mamoru and Usagi's Babysitting Mayhem, is technically a Sailor Mercury episode in that she gets a new attack but it's not really about her. Ail and An have a Cardian that attacks babies, because the one that attacked children from last week wasn't bad enough. I know we eventually find out that vampire tree isn't really evil, but these Cardians are just jerks. Baby Manami's mother is hospitalized while protecting her son and the completely irresponsible and unprofessional hospital choses to entrust the safety of the baby to Mamoru, who is a complete and total stranger. Oh but Mamoru must have known the baby a little, right? Not at all. Mamoru and Usagi are so unfamiliar with this baby that they are actually surprised to learn that Manami is a boy when they see his penis! Manami's penis eventually proceeds to urinate all over Natsumi's face when she drops by to visit. Usagi and Mamoru's relationship strengthens throughout this episode as they care for Manami together, witnessing both his first steps and first words! This is in sharp contrast to their relationship with their future child who's already very capable of walking and talking when they first encounter her! It doesn't really matter that Usagi and Mamoru's relationship improves throughout this episode as that will all become irrelevant when his memories return anyway, but it seems like progress. Ami's involvement is pretty loose, but she gets mad at the Cardian and uses a Shabon Spray Freezing attack.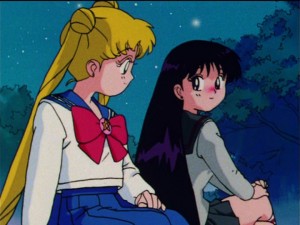 Episode 54, The School Festival Is for Me?! Queen Rei's Song, is a legit Sailor Mars episode. There's a festival at Rei's school which she is super controlling and bossy about. Rei works really hard to write songs she will perform at the festival, which goes super well until it is attacked by a monster. Rei gets all upset and uses a new attack, Fire Soul Bird. Also at the festival are Natsumi and Seijuro's fashion show where they dress in all sorts of strange costumes. They do this for completely selfish reasons as it builds up the crowd's energy level, which they drain to feed their vampire of a tree. As the episode closes Rei and Usagi share a brief pleasant moment with each other which is quite nice.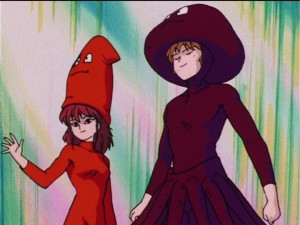 Rei performs the song Eien no Melody (Eternal Melody) in this episode, which was translated into English in the DiC version as Oh Starry Night.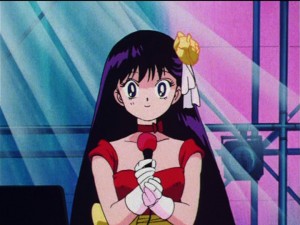 Support the site by buying these and other episodes on Amazon Instant, or buying the DVD or Blu-Ray release of season 1 part 1.
Possibly Related Posts