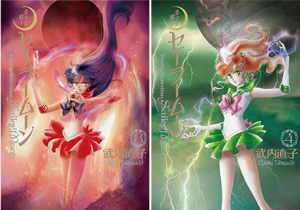 The 3rd and 4th books of the Kanzenban or "Complete Edition" of the Sailor Moon manga started to hit store shelves in Japan yesterday, December 28th. You can order these books from Amazon Japan (vol. 3, vol. 4) or CD Japan (vol. 3, vol. 4). The covers for these issues feature Sailor Mars (volume 3) and Sailor Jupiter (volume 4).
As with other issues these are slightly larger books than the other editions. The high quality paper offers bright white glossy pages as well as the inclusion of all of the colour pages, including those previously only seen in the pages of Nakayoshi magazine in which Sailor Moon was first published. These volumes collect more pages than previous collections so there is more story per book.
There are currently no plans to release these books in English so if you are interested in these you'd better brush up on your Japanese!
Possibly Related Posts