Anime South 2013 is this coming weekend, December 27th to the 29th, in Pensacola Florida. Attending as guests will be professional cosplayers Jessica Nigri, Monika Lee, Katie George, Carolann Voltarel, Lindze Merrit, Riki LeCotey, and Anna Fischer. I met up with Jessica Nigri and Monika Lee at Pop Expo 2013 in Ottawa a couple of weeks ago. When I suggested they cosplay as Sailor Moon characters Jessica mentioned that at an upcoming convention in Florida she would cosplay as Sailor Venus, Monika Lee would cosplay as Sailor Mars and Riddle (Riki LeCotey) would be Sailor Mercury. It looks like at least a couple of other guests will be wearing Sailor Moon costumes this weekend as well.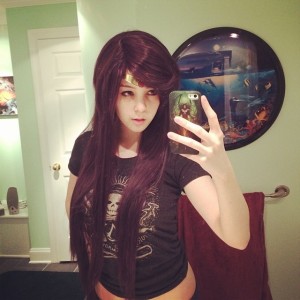 Monika Lee posted a photo of her Sailor Mars costume in progress to Instagram. Riki LeCotey also posted a photo of herself as Sailor Mercury along with Lindze Merrit as Sailor Venus, Monika Lee as Sailor Mars and Katie George as another Sailor Soldier who's gem is not visible.
Sailor Moon and cosplay fans may want to get a chance to grab a photo with these professional cosplayers dressed as their favourite characters. We're looking forward to seeing what these costumes look like once they're complete.
And just for fun here's a photo of Jessica Nigri, Monika Lee and me dressed as characters from Hayao Miyazaki films.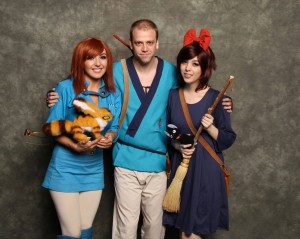 Possibly Related Posts