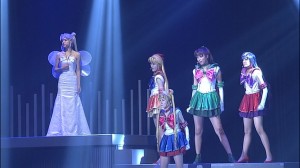 Good news for fans of the Sailor Moon musicals but perhaps not for those living outside of Japan. A set with six of the recent musicals is coming on November 17th though at this time it is only mentioned to be available from the official Sailor Moon fan club as well as the King Records e-SHOP which only ships within Japan. It will also be sold at the Sailor Moon 30th Anniversary Musical festival which is also in Japan. It isn't clear if it will be available to members of the International Sailor Moon Fan Club or sold at other retailers. It is not currently listed on either Amazon Japan or CD Japan which I've used to buy such products from in the past.
Which musicals are included? This set will feature the 2013 musical La Reconquista, the 2014 musical Petite Étrangère, the 2015 musical Un Nouveau Voyage, the 2016 musical Amour Eternal, the 2017 musical Le Mouvement Final and the 2021 musical Princess Kaguya's Lover. Noteably absent are the Super Live musical which has never been released on home video and the Nogizaka46 x Sailor Moon musical which already has two Blu-ray releases.
Why is this something anyone would care about? Aren't these already on video? They are but unfortunately five of these six musicals were only released on low quality standard definition DVDs. The Princess Kaguya's Lover musical was already released on Blu-ray. It's also worth noting that the price is fairly good, by Japanese standards. The MSRP is 17,600 yen which is about $127. This is about double the usual prince of a single musical on Blu-ray. When I first heard of the news I dreaded seeing the price tag expecting something close to the $300 to $500 range. The price seems appealing, assuming people outside of Japan can manage to get a hold of it somehow.
The recent musicals, despite only being released on low quality DVDs, do appear to have been recorded on some higher quality video. The DVDs were widescreen suggesting they weren't shot with NTSC video cameras but rather converted from a high definition source. There have also been streaming and downloadable versions of the musicals available exclusively in Japan which were in high definition.
These sets have one disc for each musical with a seventh bonus disc. Since most of the DVD and Blu-ray sets for the recent musicals included a second disc for bonus features it seems unlikely all of those features will be included with this set. The musicals are all fairly long and so, unless video quality is sacrificed, it's not likely that many hours of special features will be included on the same disc alongside the video of the musical performances themselves.
Japanese DVDs are region 2 so be sure your DVD player can handle this is you're looking to buy the DVD set. Japanese Blu-rays are region A which is the same region as North America. I've had no problem watching Japanese Blu-rays on my Canadian purchased PlayStation 3, 4 and 5 machines.
There will be an online event held on August 20th at 7pm, Japan Standard Time, which those who pre-order this set will have access to view.
Will you be picking up this set, assuming you are able to? I would certainly be happy to revisit these great musicals in high definition!
Possibly Related Posts