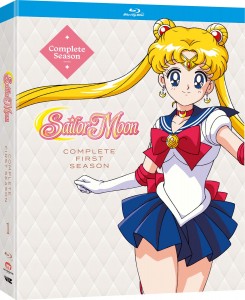 The new release of the first season of Sailor Moon is out on Blu-ray today, June 14th. We have learned from fans that have received the set that these Blu-rays discs have new and improved video quality as well as features not on the releases from 2014. I got my copy today but have not have a chance to watch any of it yet. I did get myself a new Blu-ray drive and plan on doing a proper review as time permits. The release should be available in stores that sell this kind of thing as well as through online retailers. You can support the site by buying it through the link below.
This is a North American English language release by Viz which includes the original Japanese audio with optional English subtitles as well as the new English dub which was done by Viz using the same voice cast that appears in Sailor Moon Crystal.
Have you gotten your set yet? What do you think?
Possibly Related Posts