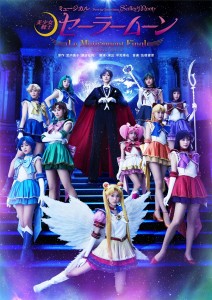 The latest Sailor Moon musical, Sailor Moon Le Mouvement Final, began being performed in Japan yesterday, Friday September 8th! The DVD has now been announced and it will be released on March 14th 2018. This DVD will have an MSRP of 7,800 yen, about $72 US and is currently available for pre-order from online retailers such as Amazon Japan and CD Japan.
I haven't generally had anything good to say about these DVD releases in the past. This is a Japanese only DVD with no English subtitles or audio. The video quality of the last 4 musicals has been an embarrassingly sub par 480i which seems especially disappointing given there are HD versions of the musical available online in Japan. This is the kind of stuff we would have expected in the 90s but in 2017 there's no excuse! There will be no Blu-Ray version of this release. Instead the DVD will simply have a Blu-Ray equivalent price! Will they somehow make this DVD a bit better and at least have progressive scan video? Seems unlikely.
There are currently no specifics about what special features may be included but these usually include a number of bonus features including interviews and other behind the scenes featurettes. Check out my reviews for the La Reconquista, Petite Étrangère, Un Nouveau Voyage and Amour Eternal DVDs to see what kind of special features those included.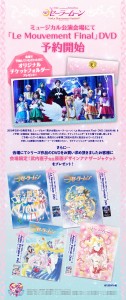 Additionally, as has been done in the past, some special covers for the previous DVD releases will be available exclusively at the venues where the musical is being performed. These exclusive covers feature manga art corresponding to the story arc being covered by the particular musical.
Possibly Related Posts