An update posted to the official Sailor Moon site and Nakayoshi web site includes images of a Sailor Moon Eternal calendar which shows us previously unseen images from the upcoming Sailor Moon Eternal films including an image of Helios kissing Chibiusa. The calendar will be included with the February 2021 issue of Nakayoshi which will be released on December 28th because magazines lie to us as much as car manufacturers.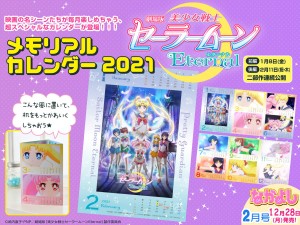 There are other images in the calendar, which you can see above, though some are repeats and others are alternate poses of characters we've seen before. The calendar appears to be a triangle shaped out of double sided cardboard with two months visible on each surface, as you can see from the photo in the bottom left corner of the image. There are 11 images in total as January and February share the Sailor Moon Eternal poster as an image.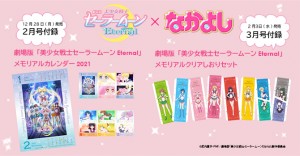 The March bonus, pictured above, is a set of eight Sailor Moon Eternal bookmarks. That issue will be released on February 3rd 2021 again because of the lies.
The Nakayoshi magazine is an important part of Sailor Moon history as it is where the Sailor Moon manga was first published! The first Sailor Moon Eternal film will be released in theatres in Japan on January 8th while part 2 will be released on February 11th. There has been no official confirmation of when the films will be released outside of Japan.
Possibly Related Posts