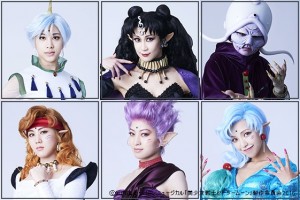 We've gotten a few updates about the upcoming Sailor Moon musical, Amour Eternal, recently. The latest is an image of Helios, Nehelenia, Zirconia and the Amazon Trio which was posted to the official Sailor Moon site. We've also gotten a look at the Sailor Guardians, old and new, in their uniforms in some images and a commercial which is included below:
We had previously learned who all of these actors were going to be but this is the first time we see them in costume. What do you think?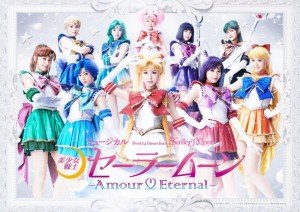 There has also been a cast change, which was mentioned in our last update, where Hikari Kuroki who was originally cast as Sailor Mercury was replaced by Yume Takeuchi. This was said to have simply been because of "cast circumstances" without specifics. I've learned some details about what may have prompted this. She posted on Twitter that she was leaving because of complaints. Some believe she may have been removed from her role for having posed as a gravure model in the past, which means that she did modeling in clothing such as revealing swimsuits. I also saw comments suggesting she had changed her name since then. I do not know the exact nature of all of her previous works so I can not comment on the specifics, but it seems unfortunate for something like this and the public shaming that ensued to have caused problems with her career. Many other actors who have been affiliated with various incarnations of Sailor Moon have done this type of work so it's hard to say if this is the actual reason for her leaving and we will likely not be getting anything in the way of official confirmation if this is the case. Some details about this come from an article from Yahoo Japan. You can read a translation of this and her tweet on the Ai No Message Tumblr page.
This musical, which covers the Dream arc of the manga, will be playing in Japan in October and November of this year.
Additional images can be found at 25news.jp.
Possibly Related Posts