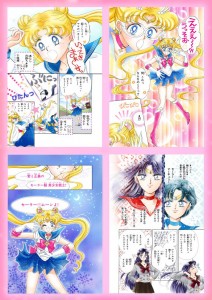 Can you ever have enough copies of the Sailor Moon manga? Of course not! The latest iteration is a fully colourized version which will be available only as a digital download. After being spotted in a magazine it has now been officially announced on the official Sailor Moon web site. The good news is that the first two volumes will be released in a couple of days, on June 29th! The bad news is there is no current plan for a physical release of this version of the manga. It remains to be seen if we will be getting a printed version eventually.
The price of this version if fairly low at only 990 yen per volume. This works out to about $9.25 US. It isn't clear if or when it might be released internationally. The big advantage of the digital versions which were released last year was that they were released in a number of languages and stores worldwide. While I certainly hope that's eventually the case with this version, I'm not seeing them for sale in any particular stores outside of Japan at this time.
So what's going on with this version? Sailor Moon was originally a black and white manga and this version has colour added. The original release of the Sailor Moon manga in the magazine Nakayoshi had a few colour pages at the start of each chapter. These were not included in all manga releases though all colour pages were in the latest release, the Eternal Edition of the manga. Oddly these colour pages are actually recoloured differently for this new version of the manga and while it isn't clear why this is I suspect the aim was to have a consistent look throughout the new version which may not have worked seamlessly if the original colour pages were used.
It's also worth noting that this colour version is not the same as the ones seen in the 20th Anniversary art exhibit a few years back. Check out this comparison on Twitter which shows slight differences.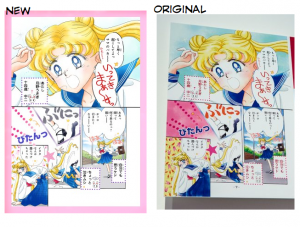 Will you be checking out this release? Will you buy the Japanese version or hold out for an English release or perhaps a physical printed edition?
Possibly Related Posts