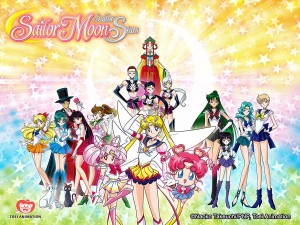 Now that Sailor Moon SuperS Part 2 has finally been released on home video we also have news that Sailor Moon Sailor Stars will be out in the Spring. Viz Media posted a message to their official Twitter account stating that Sailor Moon Sailor Stars is coming in Spring 2019. Though no specifics were mentioned we can assume this to be a reference to the DVD and Blu-Ray release of the series as dubbed versions of the anime have not been released to stream for free lately, as was done early in the series. This post was accompanied by a Sailor Stars logo featuring many characters seen throughout the series as well as Sailor Chibi Moon and Tuxedo Mask.
The logo itself is not terribly new. Nearly three years ago Sailor Stars began being released in Japanese with English subtitles on Hulu which used a nearly identical banner. This reminds us of course that Sailor Stars is hardly new to North America. When the fifth season was not released in English after Sailor Moon SuperS was originally dubbed we went nearly two decades without seeing the episodes in any official capacity but fans can now watch the series in Japanese with English subtitles on Yahoo! View, Tubi or Hulu. That said we still haven't seen an official English dubbed version of the series which we will be seeing for the first time in the Spring.

We still don't have a specific date for the release of the first half of Sailor Moon Sailor Stars, as I assume it will be split into part 1 and part 2 as the other seasons have done. For now we can still get the first 4 seasons.
Possibly Related Posts