You have probably seen this meme somewhere on the Internet! Tuxedo Mask states "My job here is done" to which Sailor Moon replies "But you didn't do anything". This lends itself well to a variety of humourous situations in which a person claims to have done something and really did nothing at all. Very funny, but just how accurate is this meme in the first place?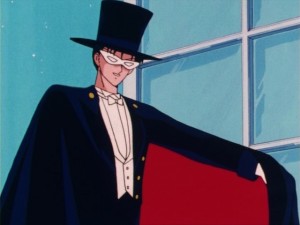 There are really two things to ask ourselves here. The first is whether or not anything close to this exchange ever took place in the show and the other, more general idea, is whether Tuxedo Mask does indeed do anything with his interventions. Let us first look at the scene in question. The images we see in this meme are from the first episode of Sailor Moon "The Crybaby: Usagi's Beautiful Transformation". Tuxedo Mask says something to Sailor Moon after her battle with Morga and then departs. Contrary to what the meme states he does not actually say anything which resembles "My job here is done" or "My work here is done". This can be a bit tricky as there are so many versions of Sailor Moon and its dubs, so let's look at a few. With Sailor Moon first coming into popularity in North America in 1995 the version most Internet users and casual fans are likely to be familiar with is the DiC English dub. In this version he states "You have done well Sailor Moon and now Molly's mother and all the other women are free. Others will test you. Do not be afraid. I will fight with you." to which Sailor Moon responds, after he's gone, "What a hunky guy". Note that the response isn't from the image used in the meme but is said when she has hearts in here eyes moments later.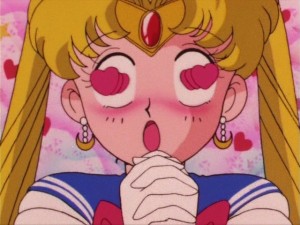 Sure, you may be saying, but that's the horrible butchered DiC dub which committed various atrocities to my childhood and humanity! Let's look at the original line then. This scene appears in the manga, in the original Japanese anime and in Sailor Moon Crystal. It has been translated more or less faithfully a number of times and always gives roughly the same idea. The recent more accurate Viz dub has Tuxedo Mask saying "Well done Sailor Moon. I won't soon forget what happened here tonight." to which Sailor Moon responds "He's so cute". The subbed version is essentially the same. The manga version is a bit different as there was no rose thrown and Tuxedo Mask actually didn't do anything, though again there is no dialog which resembles the meme at all. In no version does Tuxedo Mask actually say "My job here is done" or anything like it. Sailor Moon similarly doesn't respond that he didn't do anything but this is hardly a surprise as this unexpected response is more meant to be a mocking of what he did rather than what she actually said.
Next then we should look at whether in this episode in question and the series as a whole, Tuxedo Mask actually does anything! In this particular scene the dialogue follows Sailor Moon's fight with Morga. While Sailor Moon is fighting she is backed against a wall with a bunch of brainwashed jewelry store clients marching against her. Morga extends her claws to Sailor Moon, ready to strike her with a deadly blow. All hope seems lost when … a single rose flies in front of her distracting the enemy. Sailor Moon then cries which causes this amplified sonic attack which is not used again until Sailor Moon SuperS. Luna then tells Sailor Moon to use her tiara which defeats the enemy. Would Sailor Moon still have had the time to use her sonic attack without Tuxedo Mask intervening? It seems very unlikely. The image of Morga reacting to the rose shows that her hand was just in front of Sailor Moon and it seemed unlikely she would have had time to launch her sonic attack. It isn't terribly fair to say that Tuxedo Mask didn't do anything in this scenario. He caused a momentary distraction which allowed Sailor Moon to get the upper hand and use her own power to save the day and this is close to how that interaction usually occurs. Had he not been here would Sailor Moon have been killed by Morga? Who knows. Perhaps Sailor Moon would have died and then reincarnated through some plot device. Perhaps she would have cried which caused the light of the Silver Crystal to scare off Morga (though the Crystal in this continuity is split up into seven Rainbow Crystals with Sailor Moon's tear being the catalyst to bring them together). Perhaps Luna would have sacrificed herself by putting her body between Sailor Moon and the attack, as she does when Fiore tries to kill Sailor Moon in Sailor Moon R The Movie. Lots of options but, generally speaking, it seems like his intervention did in some sense save Sailor Moon here.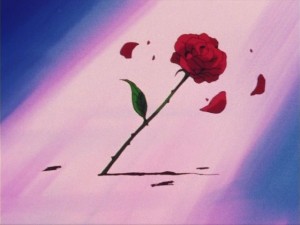 In general Tuxedo Mask usually does about the same thing. The monster shows up and things start to get a little tense when a well timed rose shakes things up enough for Sailor Moon and her friends to get their footing and deal a finishing blow to the enemy. Without Tuxedo Mask perhaps some of these close calls would have gone the other way leading to Sailor Moon losing instead of winning some of these close fights. Still Tuxedo Mask has no attacks in the original anime. He fights with roses and a cane which are not terribly lethal and at best helps to give the upper hand rather than actually defeating the monster of the week.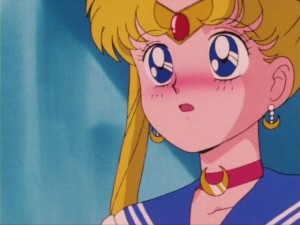 All said this is Sailor Moon's show. She is the strong capable superhero and is not your typical damsel in distress in constant need of saving. Tuxedo Mask comes in with a quick assist from time to time but he's not scoring the game winning goal. It's an odd state where he is made to be protecting Sailor Moon and saving her without doing most of the heavy lifting. This is a tough line to walk and likely an intentional one. Sailor Moon is a role model and inspiration to viewers. She has strength and power of her own and is not helpless next to the man who protects her. Still Tuxedo Mask is the valiant and courageous love interest who protects and helps her because that is a sort of archetype which is appealing to the viewer. Sailor Moon herself is impressed with how he wants to protect her. Tuxedo Mask's name Mamoru even means "protect" in Japanese. The manga and anime really do try to have it both ways by having Tuxedo Mask protect and rescue Sailor Moon but also have her be strong on her own. This is a hard balance to get. I have certainly heard criticism that Sailor Moon is a damsel in distress but I don't think this is accurate. She really is strong and really does fight her own battles and Tuxedo Mask does the minimum needed to be the dashing protector and saviour while still making Sailor Moon's victories her own well earned accomplishment, not to mention Sailor Moon getting along just fine when Tuxedo Mask is busy being evil, a bad boyfriend, injured or dead.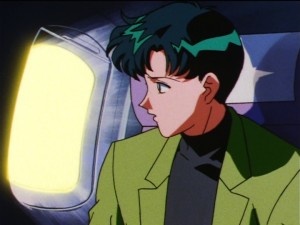 With that I'd say the meme is certainly funny and I understand how in some fundamental way it strikes a cord but ultimately I don't think it accurately reflects the dynamic between the two. Tuxedo Mask does something. He doesn't do much and he doesn't do enough to take away Sailor Moon's spotlight but he's a worthwhile low powered sidekick who provides well timed distractions and words of support when they are needed. Beyond that he doesn't take credit for being the victor in battles which he isn't actually winning.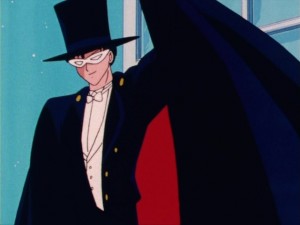 What do you think? Is Tuxedo Mask a useless blowhard who takes credit when nothing is done? Is he a harmful stereotype teaching girls they're damsels in distress who can't do anything on their own? Am I overthinking this harmless joke?
Possibly Related Posts