The Official Sailor Moon Fan Club began taking memberships in Japan in March. I was hoping to sign up but was quickly thwarted when asked for a Japanese address. What Prefecture do I live in? Not sure I understand the question. Now the Fan Club is opening up to a number of countries around the world! Registration will begin September 23rd and will be open for only a limited time, closing on October 22nd. Interested fans should sign up to be notified of more details at the Tokyo Otaku Mode web site by providing their e-mail in the very straightforward English language form. This is not the form to sign up for the Fan Club itself. This is a form to be notified how and when to sign up for the Fan Club.
The cost to become a fan club member for 2016-2017 is $58 US. This will include a membership card, access to the Fan Club app for mobile devices and the ability to order club exclusive merchandise. The intention of this move is to give the same fan club benefits that exist in Japan to people all over the world. Some exclusive merchandise is shown in the English poster seen below.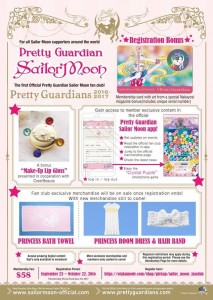 This registration will be open to fans from the following countries:
Australia
Austria
Belgium
Brazil
Canada
Chile
China
Colombia
Denmark
Finland
France
Germany
Hong Kong
India
Indonesia
Ireland
Italy
Japan
Malaysia
Mexico
Netherlands
New Zealand
Norway
Peru
Philippines
Poland
Puerto Rico
Republic of Korea
Russian Federation
Singapore
Spain
Sweden
Switzerland
Taiwan
Thailand
United Kingdom
United States
Vietnam
Those who are not from one of these countries are encouraged to leave a comment when they leave their e-mail address to request that the fan club include their country as well.
Possibly Related Posts