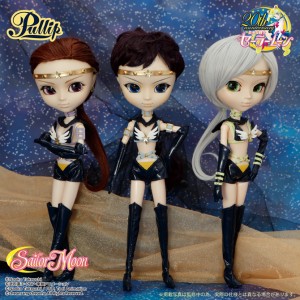 Sailor Starlight Pullip dolls have been announced on the official Sailor Moon site! The Sailor Starlights Sailor Star Maker, Sailor Star Fighter and Sailor Star Healer join many other Pullip dolls already released. There isn't much in the way of details at this time as we don't have a date or price for these, though the price point would likely be the same as other dolls, costing between $150 and $180 US when released domestically.
Pullip dolls are high quality very expensive dolls with disproportionally large heads and eyes for their size. Different model Pullip dolls are used for different basic figures. Most Sailor Moon characters are Pullip dolls while Chibiusa and Sailor Saturn are Dal dolls, which are a bit smaller as the basic model is of Pullip's sister. Tuxedo Mask is a Taeyang doll, which is Pullip's boyfriend. One has to wonder if the Sailor Starlights would have alternate costumes as the Three Lights or, if such a doll were planned, if they would make male Taeyang dolls for the Three Lights Seiya, Yaten and Taiki. Many of the other Sailor Guardians had civilian costumes as Bandai Premium exclusives.
Support the site by ordering some of the previously released Pullip Dolls using the links below.
Possibly Related Posts