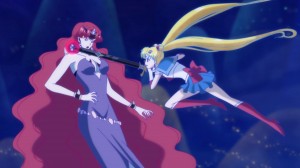 This Friday on the latest English dubbed episode of Sailor Moon Crystal the Sailor Guardians will face off against Queen Beryl and evil Tuxedo Mask! Act 12, Enemy – Queen Metalia, will be available this Friday at 9pm Eastern Time, 6pm Pacific Time, on Hulu and Neon Alley. Queen Beryl and her hair are proving to be a serious villain! We're getting real close to the end of the Dark Kingdom story arc. There are some major changes from the manga in this episode which upset some fans.

This episode will also feature a new scene by the Shitennou, who were dead at this point in the original manga. A must see for Sailor Guardian/Shitennou shippers!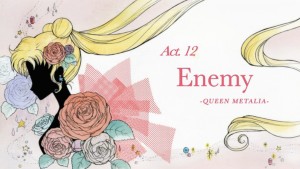 A quick note about the title. The original Japanese title of Act 12 was "Enemy – Queen Metaria". There has been constant confusion about what her name should be, although I think it seems fairly obvious that her name is a reference to metal. All instances of her name in the subtitles have shown her as being Metalia, and this is the name used for the updated dub title, and so that is the one I will use here. The tag I use for the episode uses the original Japanese title, and will be left like that for simplicity's sake. You were using the convenient and excessive number of tags I use for things like characters and episodes, right?
Possibly Related Posts