The latest English dubbed episode of Sailor Moon Crystal has been added to Hulu and Neon Alley. This week we get Act 4, Masquerade Dance Party. The Kingdom of D has a very impressive gem and everyone, Tuxedo Mask, the Sailor Guardians, the Dark Kingdom, wants to know if it's the Silver Crystal so they all crash the party and check it out! This version of the dub has decided to refer to Princess D as "The Princess of D", though she is also called Princess D in the episode. The Japanese reference of the name Princess D was likely a reference to Princess Diana, often called Princess Di, who was popular in the media in the early 90s. As her death in 1997 was over 13 years ago the reference is less relevant and so no adapting it certainly makes sense. The original Sailor Moon anime referred to her as Princess Dia, a mix between Princess Di and Princess Diana. The original English dub named her Princess Diamond.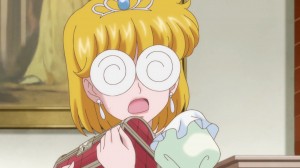 This version of the episode features updated animation used in the Japanese Blu-Ray and DVD home video release. I had mixed feelings about this episode when it first streamed and my feelings haven't really changed. The big moment in this week's episode is when Tuxedo Mask kisses and unconscious, somewhat drunk, Usagi. This isn't cool! A sleeping person can't consent, even when you have an existing relationship in a past life. That excuse sounds absurd here, though we must consider that within the reality of the Sailor Moon mythos, this past life did exist so there some precedent for this kiss. There was a similar scene in episode 22 of the original Sailor Moon anime, Romance Under the Moon: Usagi's First Kiss, but in the old English dub the dialogue was changed so that it was insinuated this was a dream. Certainly kissing in a dream is hardly the same kind of violation as the rape kiss featured in this episode.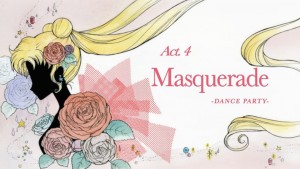 New episodes are released every Friday evening at 9pm Eastern Time, 6pm Pacific Time. Next week is Act 5, Makoto – Sailor Jupiter, we will be introduced to Makoto Kino.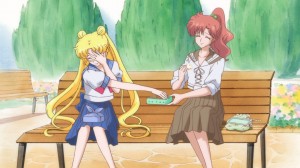 Possibly Related Posts