The latest episode of Sailor Moon Crystal has been released in English on Hulu and Neon Alley. This week we get Act 3, Rei – Sailor Mars, which introduces us to the third Sailor Guardian Rei Hino. Fans of the original Sailor Moon anime will notice this is quite similar to episode 10, The Cursed Bus: Enter Mars the Guardian of Fire, though there are still some differences. Usagi has a more obvious crush on Rei in this show. The manga, and Sailor Moon Crystal which is very faithfully based on it, progresses at a much faster pace than the original anime. We will be seeing a one to one ratio for manga chapters to episodes of this show as we progress through the 13 episode Dark Kingdom story arc.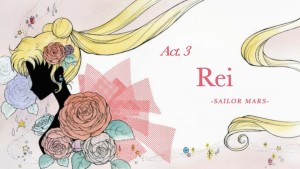 As with other episodes this has the improved animation from the Japanese Blu-Ray and DVD release of the show. The changes are minor, but some that viewers of the streaming version may not have seen yet. For my full thoughts on this episode read the review I wrote when the episode first became available to stream in Japanese.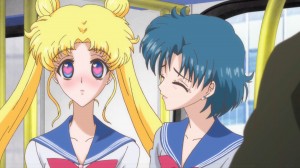 Next Friday, December 4th, is Sailor Moon Crystal Act 4, Masquerade Dance Party. It looks like dubbed episodes of Sailor Moon Crystal will only be available later in the evening, unlike what happens on Monday mornings for the subtitles episodes of the original Sailor Moon anime.
Possibly Related Posts