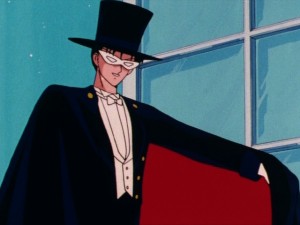 Next weekend, October 31st to November 2nd, is the Tamashii Nations 2014 event where a number of Bandai's Tamashii Nations Figuarts and PROPLICA items will be revealed. A news post on the official Sailor Moon site has mentioned that a Tuxedo Mask S. H. Figuarts figure is set to be revealed! S. H. Figuarts includes high quality highly posable figures. All previous S. H. Figuarts figures in this series have been Sailor Guardians because in the bizarro world that is Sailor Moon it's actually rare to get figures of male characters. Keep checking this site for photos of this new figure as they are released in the next week.
Since a number of new PROPLICA items will also be released it's possible another Sailor Moon PROPLICA item will be announced. Since the Moon Stick and Cutie Moon Rod have already been released we are overdue to see the Spiral Heart Moon Rod, Sailor Moon's attack item from the Sailor Moon S season of the anime and the Infinity story arc of the manga.
Speaking of Tuxedo Mask. You know who likes him? Sailor Pluto. Did her Figuarts figure get lost in the planet controversy?
Source: Sailor Moon official site via Moonkitty.net
Buy or preorder one of the many Bandai Tamashii Nations items below to support the site:
Possibly Related Posts