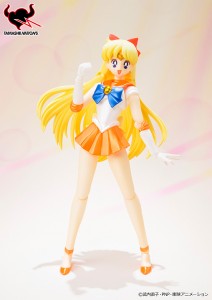 The Tamashii Nations' official Sailor Moon site has been updated with details about the Sailor Venus S. H. Figuarts figure which will be on sale starting in April. We finally have a look at some of the alternate faces and accessories and can now confirm that the figure will indeed come with Artemis and will also include Sailor V's mask!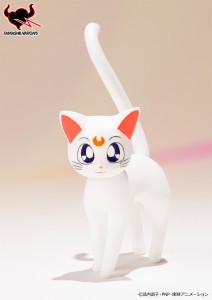 As with the other figures Sailor Venus will be 14 cm tall, roughly 5.5″. The site lists her price as being 4536 yen, roughly $43 US. This seems to be more than the other figures sold for but this is because the Japanese sales tax will go from 5% to 8% on April first, which will affect this figure. The pre tax price for all S. H. Figuarts figures is 4200 yen, about $40 US, so this figure will cost you about the same as the others did.
Speaking of other figures! Sailor Moon and Sailor Mercury are out. Sailor Mars has recently been released in Japan and will be for sale in North America as of January 15th. You can order Sailor Moon and Mercury and pre-order Sailor Mars from the links below to support this site.
There are currently no sites offering international preorders for Sailor Venus but we will share that information as it becomes available. Preorders in Japan begin January 7th.
Sailor V's mask may seem out of place without the rest of her uniform, but fans may recall that Sailor Venus was wearing this mask along with her Sailor Venus Sailor Fuku very briefly in her first appearance. The figure in the image below is even posed just like she was in that scene.
There is still no release date for Sailor Jupiter's S. H. Figuarts figure. It's odd for Sailor Venus to be released first, as Sailor Jupiter showed up first in the manga and Anime (excluding appearances by Sailor V) and we saw the Sailor Jupiter prototype at San Diego Comic Con prior to seeing Sailor Venus's prototype. Details for that figure should be available soon enough.
Image source: Sailor Moon Collectibles
Possibly Related Posts