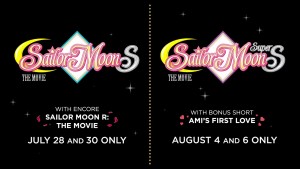 Great news! The 2nd and 3rd Sailor Moon films, Sailor Moon S The Movie and Sailor Moon SuperS The Movie, are coming to theatres in North America this summer. Sailor Moon S The Movie will be shown with an encore presentation of Sailor Moon R The Movie Saturday July 28th and Monday the 30th while Sailor Moon SuperS The Movie will be shown with the Ami's First Love special Saturday August 4th and Monday the 6th. The Saturday showings will have Viz's new English dub of the film while the Monday showings will be in Japanese with English subtitles. This was announced earlier today at Viz's Moon Panel at Anime Central in Rosemont, just outside of Chicago. A trailer has been uploaded to YouTube and can be seen below:
The movie posters for these two movies are similar in style to what we saw when Sailor Moon R The Movie was released in theatres.
Fans will be able to get tickets and a complete list of participating theatres from the Fathom Events web site. Currently no theatres are listed but there will surely be more added as we get closer to the dates. It seems practical to refer to the SuperS film as Sailor Moon SuperS The Movie rather than it's full official title Sailor Moon SuperS: The Nine Sailor Guardians Unite! Miracle of the Black Dream Hole. I hardly hold this against Viz as I've been known to do the same myself! This will be the first time Ami's First Love is released here in North America. This short animated special, which was originally shown alongside the SuperS film in Japan, tells the story of Ami receiving a love letter which she suspects is from her intellectual rival Mercurius.
Sailor Moon S The Movie is adapted from a manga story The Lover of Princess Kaguya which focuses on Luna and her infatuation with a human man. It is well known for featuring Human Luna.
The Sailor Moon SuperS film is an original story not based on any manga chapter. It has Chibiusa befriending Perle, a sort of fairy boy who's rebelling against Badiane, a villain who is attempting to put the Earth's children into an eternal sleep in the Black Dream Hole. The film's story has some similarities to the film The Matrix, which was made a few years after it, though these may be a simple coincidence.
Do you plan on checking out these films?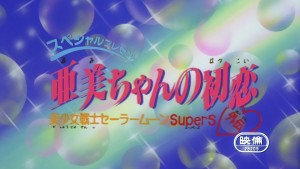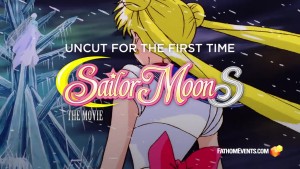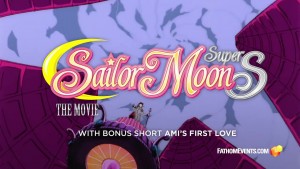 Possibly Related Posts