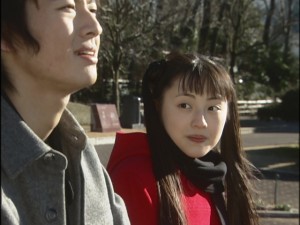 This is a review and discussion of the Live Action Pretty Guardian Sailor Moon series Acts 19, Usagi's Doki Doki Valentine, and 20, Hina was Mamoru's Fiancée. These episodes once again focus a lot on Usagi's reaction to Mamoru's girlfriend Hina and the events surrounding Valentine's Day as a new young friend of Usagi's explores a romance with a young boy. The episodes originally aired on Japanese TV on February 14th, Valentine's Day, and February 21st and because of this some of Act 19 actually takes place on Valentine's Day as the title suggests. A note on the Act 19 title! Doki Doki is the Japanese noise for a heart beat so the title might read something like Usagi's Thump Thump Valentine or Usagi's Ba-dum Ba-dum Valentine. There isn't really a single universally accepted English onomatopoeia for the sound of a heart beat as there is in Japanese. Considering the domestic name for the North American release of the Famicom video game Doki Doki Panic perhaps it would make sense to call it Usagi's Bros. 2 Valentine.
Act 19 continues with the saga of Usagi's cursed scarf! This middle school teacher really did create a lot of drama when she suggested her students give their scarves to a boyfriend! Usagi, motivated by the power of love, completed her scarf and is glowing while looking at the completed product only to then become overcome with sadness. A little heartbreaking.
Usagi is surprised when she walks into her dining room one morning to find that in Shingo's place is a young girl! This is her mother's friend Nozak's daughter Hikari. Usagi isn't sure how to entertain her but Hikari knows exactly what she needs help with! Tomorrow is Valentine's Day and she wants to buy chocolate for a boy she likes, Daichi. The catch? He's in love with another girl. The twist? It's Hina! Hilarious! Usagi and Hikari are both trying to win over the affection of a boy who is in love with the same girl!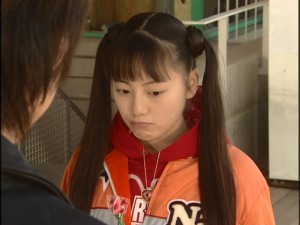 When the two run into Hina and Mamoru both Usagi and Hikari are treated the same way as she gives them both a lollipop! Mamoru laughs at this, as we see that Hina is treating them both as children. This naturally leaves Usagi a bit embarrassed. She's already self conscious about the fact that Mamoru has a serious relationship with this older woman and this action, one of kindness from Hina, doesn't help her case. This gets even worse when Usagi attempts to eat her sucker and sees that Hikari have given hers away to an even younger child. Looks like Usagi has a lesson to learn from her young friend!
Is there actually a chocolate which will make a boy forget about the girl he's in love with? It looks like there is but it's the 5000 yen chocolate, which is about $45 US, while Usagi was eyeing a chocolate which cost about 1/10th of that cost. Somehow giving this chocolate to Daichi totally wins over his heart! He says he's got a new game, supposedly a video game, and invites Hikari over to… watch him play. I thought they would play together but in the next episode he makes reference to showing her how to play next time. Really bro? It's a new game! You can both learn together! I wonder what kind of game this would have been in 2004. It's probably a PlayStation 2 game, since they had the most market penetration in Japan, though it could have been a GameCube game or, much less likely, an Xbox game. The Gameboy Advance was also nearing end of live at the time but judging by the fact that Hikari goes to his home to play it, they're probably not talking about a handheld.
Meanwhile Makoto knows all about Mamoru and Hina's engagement but doesn't want to tell Usagi about it because she's already upset enough. Seems like a plot device to me! They also don't want to tell Rei, who is also keeping Sailor Venus's identity a secret. This is all just bad for the group! Rei also seems to be keeping Sailor Venus's identity from Luna who has actually spoken directly to Minako in front of Rei so the show can't seem to make its mind up on whether or not Luna knows what's up. You would think she would be in a hurry to get together with Artemis so that they can share stories about how awkward it is to pretend to be a plush cat.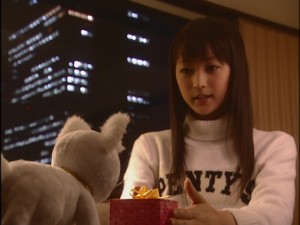 Luna has got some competition for Artemis's affection though because Minako got him chocolate! As always I ship Minako and Artemis though this relationship is more heavily hinted at in the manga and more prominently the anime than it is here. Still Minako seems to have chosen Artemis as her Valentine, giving him first a jack in the box style gag box of chocolates and then real chocolates. Life, it seems, is like a box of chocolate. The real kick? Cats don't actually like chocolate. Chocolate is toxic to both cats and dogs, though it's only really an issue for dogs who will eat pretty much anything they think might be food. Cats on the other hand are much more discriminating and don't like sweet foods, like chocolate. Of course Artemis is a plush cat who can talk so I can't really say what his tastes are like. In the manga and anime Luna enjoys star candies so perhaps these alien cats do like sweet foods after all.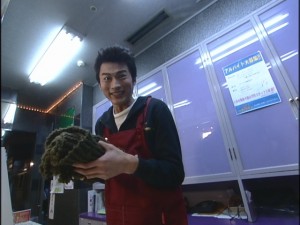 More Makoto and Motoki shipping going on in this episode! First we need to get the turtle shipping out of the way. If you recall back in Act 15 Motoki was trying to hook up his turtle Kamekichi with some lady turtles. One of them was Maririn and I guess he liked that one since she got him chocolates in this episode. Having only seen turtles eat turtle food, some bugs and spiders I can't say for sure this is something he'll want to eat but it fits with Motoki's odd fascination with turtles. I wonder if they're chocolate turtles! Makoto, who has her sweater she made for her assignment, very nonchalantly gives it to Motoki claiming it doesn't fit her style and he'd be taking it off her hands. Motoki, previously forever alone, is ecstatic at getting a Valentine's gift but Makoto doesn't seem to have put the same importance in it.
Sailor Moon gives her Valentine's chocolate to Tuxedo Mask, who naturally isn't her first choice. Tuxedo Mask, knowing fully well that Sailor Moon is Usagi, asks if there's someone else she should be giving this too. When she tells him that "someone else" has a girlfriend he tells her not to give up! I know Mamoru has been acting a bit dense but he really should know that someone else in this case means his alternate identity who has a girlfriend and is engaged. If he doesn't, he's being really ignorant. If he does, well this is sort of infidelity. Is it unfaithful to encourage someone, via an alternate identity, to pursue a relationship with you even though you are unavailable? I would think so.
Minako continues to do her own graphic design work! She's using photoshop once again this time to superimpose herself on an image of a stadium as a trap for the enemy! Decent enough trick because the enemy seems to assume she'll still be at this stadium by the time the photo is uploaded to her web site. Rei knows the score and tracks down the same building to find the generic monster. I can't even tell when we are getting the same monster or if we're getting "new" monster meaning an old costume with some feathers on the shoulder pads or something. This show's strength isn't its unique monster designs! Sailor Moon SuperS it is not! Anyway Sailor Mars finds Nephrite attacking Sailor Venus because they both fell for the same trap. He takes the Crystal! Oh no!!
Act 20 immediately follows Act 19! It's convenient that these episodes seem to go in pairs which match the way I'm reviewing them. Anyway Venus makes the Crystal explode somehow and it turned out to be a fake! Oh look I have a whole suitcase full of fake Crystals!!! Rei is starting to suspect that Minako is trying to distract the enemy. She's about to ask if she's really… something but Minako cuts her off saying she'll need to awaken first. We are meant to assume at this point that Minako has already awakened and the rest of the Sailor Guardians have not.
The ridiculous double love triangle between Hikari, Daichi, Hina, Mamoru and Usagi is about to get much more ridiculous! Hikari and Daichi want to go on a date but they need chaperones. Who better than Usagi and Mamoru? Not an awkward situation in the least! Granted they are both participating as chaperones but one can not get past the idea that it's kind of like they're going on a date together themselves! Hina is unavailable for a change. It's funny that for the first 15 episodes of the series Mamoru is always wandering the streets of Tokyo alone but since the Hina plot point was introduced they're always always about town together!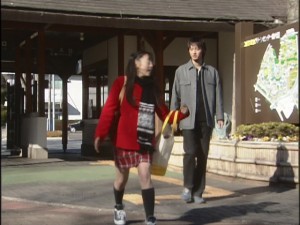 Usagi is very awkward at this date, at one point walking with her arms and legs in unison. From watching various anime series I've learned that this is a sign of awkwardness or nervousness which isn't really common in the west. Still it's fairly easy to grasp the idea that a person be too focused on something to walk properly. Try to pay attention to exactly how your arms move in relation to your legs and you'll probably mess it up. Consciousness isn't good for everything! I'm not totally sure what the venue for this date it. It seems like a somewhat basic field and park but they actually pay for entry. In Canada one would never pay for such a place but perhaps in Tokyo where space is at a premium this makes sense. The venue has some zip line type of thing, badminton without an actual net and finally the gang settle down for a picnic in which Mamoru comments that the food is very good. Usagi is generally universally considered to be a bad cook in all continuities but it's also some sort of important relationship indicator that a man find a woman's food to be palatable in Japanese culture. Again something I know only because I watch a lot of anime.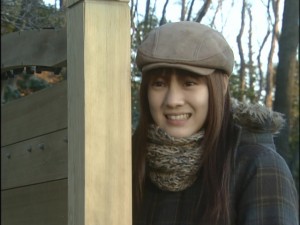 Makoto is stalking to two on their date, planning to tell Usagi about Hina and Mamoru being engaged. She seems to have figured out that Tuxedo Mask is Mamoru and confronts him about this. I'm not sure when exactly this realization was meant to have happened but Usagi still has no idea. Makoto doesn't get a chance to warn Usagi and when Hina shows up there is a comment made about the bride needing to sit next to the groom! Now it all comes crashing down again for Usagi! She sees a monster and says she has to leave which probably would seem awkward to Mamoru, the only one for whom this social situation is awkward, but he is actually Tuxedo Mask and has full knowledge of the existence of monsters and such so it's not really a big deal!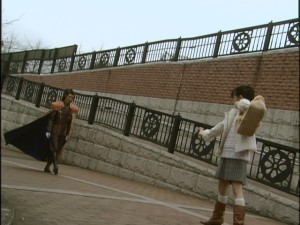 The monsters, all repeats of earlier monsters, were just illusions to distract the Sailor Guardians. Early in the episode Kunzite, watching Sailor Mars and Venus's building tension, decides that he wants a Sailor Guardian for himself! Conveniently everyone starts to ditch Ami not for any personal reason but just because they all have their own stuff going on. Ami sits quietly alone in the headquarters knitting mittens for everyone while Luna keeps her company. Now at the end of the episode Kunzite confronts Ami on the street and attacks her, at which time she transforms. He surrounds her with this black energy stuff. This is the start of one of the more interesting differences which is unique to the live action series and we'll be seeing more of that in the next episode!
Feel free to leave a comment with your own thoughts on these two episodes. If you're looking to watch along with the series you can get English subtitled fan subbed versions from sites such as Miss Dream, TV-Nihon and Sea of Serenity. Fans looking to stream the show can do so from Dramanice and Kiss Asian.
Keep reading for more screenshots from these episodes.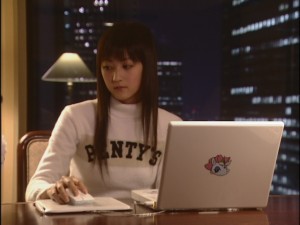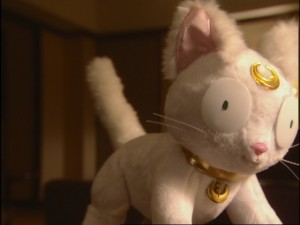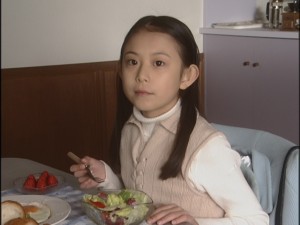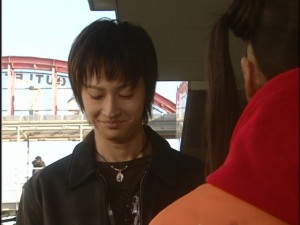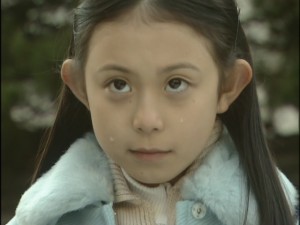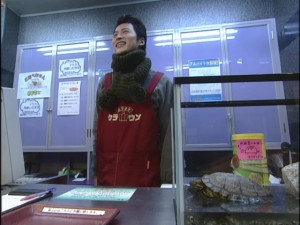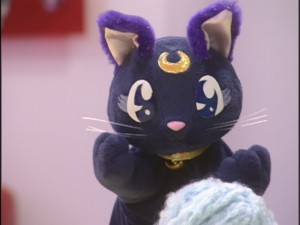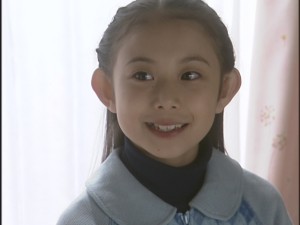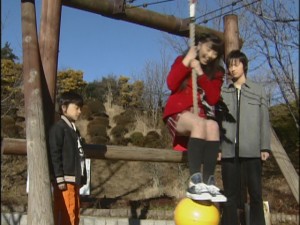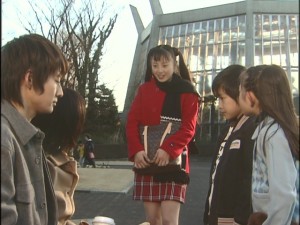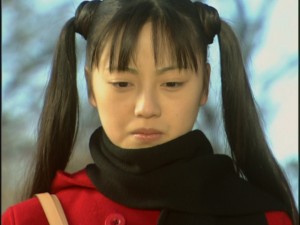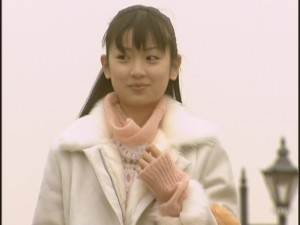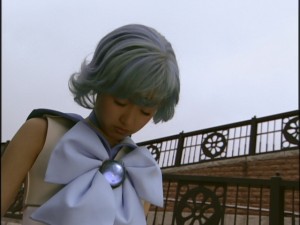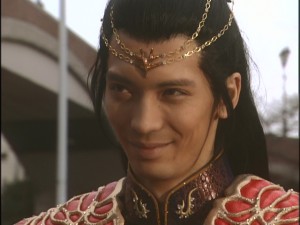 Possibly Related Posts