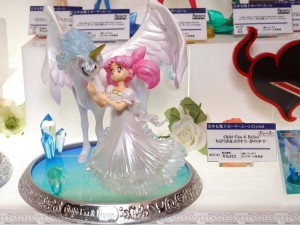 The International Tokyo Toy Show is on now, running from June 9th to the 12th. One thing which has been revealed is this great looking Figuarts Zero statue featuring Chibiusa and Pegasus from the Dream arc of the Sailor Moon manga. This on its own is not odd as we've gotten a lot of figures from throughout the Sailor Moon series in the past couple of years, not all of them tied to stories being told in Sailor Moon Crystal. Something important to note though, as noticed by the Moon Sisters Facebook page, is that the sign for this statue refers to it as a Sailor Moon Crystal figure. We are currently seeing the Infinity arc of Sailor Moon Crystal and we've had no official confirmation of episodes covering the next story arc, the Dream story arc, which covers the manga chapters which were adapted as Sailor Moon SuperS in the original Sailor Moon anime.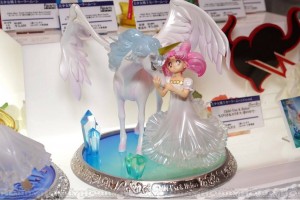 This isn't just branding. The Figuarts Zero statues have had two distinct lines of figures. The Sailor Moon figures are in a style closer to that of the original anime and the Sailor Moon Crystal figures have designs that colours that match those used in Sailor Moon Crystal. It's hard for me to tell what style this figure is in. The main indicators of a Sailor Moon Crystal specific Figuarts Zero statue are the colours, such as Sailor Moon being a bit more pink in her reds, and some proportions. Without two Chibiusas to compare this figure to there isn't much to go on. Her dress does not use standard colours. Her legs are hidden so we can't see their shape. The face does look a bit more like the rounder Sailor Moon Crystal Figuarts Zero statue than the normal Sailor Moon statue. Have a look at both below to see the difference.
Is this conclusive? Absolutely not. Many things could mean this does not actually indicate that the Dream arc of the manga will be adapted in Sailor Moon Crystal. Perhaps someone just made the sign incorrectly. Note that it says Chibi-Usa and Helios but this is clearly Helios in his Pegasus form. We don't call something an Usagi figure if she's in her Sailor Moon form. Perhaps the toy is done in a Sailor Moon Crystal style but does not reflect any plans to actually adapt these particular episodes. Figures take a long time to sculpt and approve. Perhaps when this figure was originally conceived and approved there was no indication of what the future of Sailor Moon Crystal might bring. Perhaps when the figure was planned there was an expectation that the Dream arc would be adapted but since then any number of complications has put a halt to development of those episodes. Perhaps there's some other scenario I'm not even thinking of that is causing a disconnect between what this figure represents and what we will see in the show. There are a lot of unknowns so we should always wait for official confirmation before jumping to conclusions. That said, we may very well be getting our very first look at Pegasus from Sailor Moon Crystal!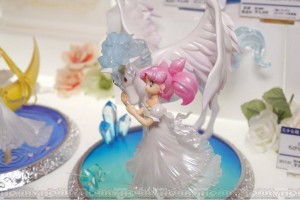 The figure is due out in January and will sell for 6912 yen, about $65 US.
Image source: Hobby Maniax (Twitter) via Sailor Moon Italy
Possibly Related Posts