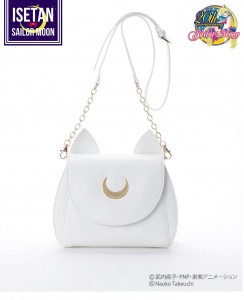 As announced on the Sailor Moon Official Site a large number of Sailor Moon themed items are available in Japan as part of a Sailor Moon and Istean Special Collaboration. These items including some fairly expensive, and therefore supposedly high quality, purses, wallets, phone cases, jewellery, charms, watches and all kinds of clothes. These are on sale now in Japan as well as online.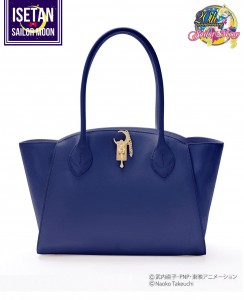 First are a number of bags and purses from Samantha Vega. The Moonstick leather bags are fairly normal looking leather bags coming in white, pink, red and blue with a Sailor Moon pattern on the inside. These are fairly expensive selling for 48,600 yen, over $400 US. I guess Kobe beef isn't the only way to buy really expensive cow pieces in Japan!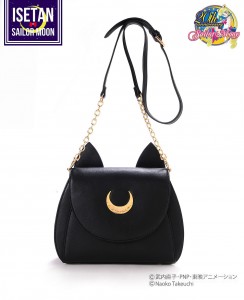 If you're not a snob for real leather, or care about the suffering of non human animals, why not just get the Luna fake leather bag or Artemis fake leather bag for 21,600 yen, about $180 US. These fun looking leather bags have little cat ears and are much more obviously Sailor Moon themed than the more subtle Moonstick leather bag.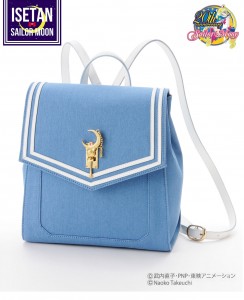 But wait. What about the rich students? They don't need a purse. They need a
Moonstick Rucksack. What's a rucksack you might ask? That's what Japanese people call back packs. This school supply will set back students 30,240 yen, about $250 US. What else were you going to spend that money on, books?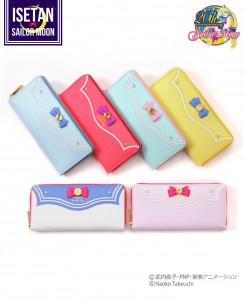 So you have a bag but still need somewhere to put all of that money you have because you're obviously rich if you're buying these. Why not shove all those yen in the Sailor Guardian long wallets which cost a mere 21,600 yen, about $180 US each. These come in 6 designs. Two for Sailor Moon and one for each of the other Sailor Guardians.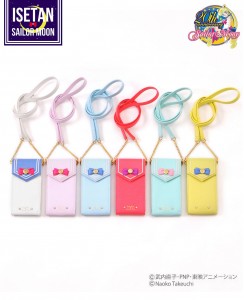 Sure you've got a fancy purse and wallet but what to do with your cell phone? You can pick up a Sailor Guardian Mini Multicase for a mere 19,440 yen, about $163 US. Like the wallets these also come in 6 different designs.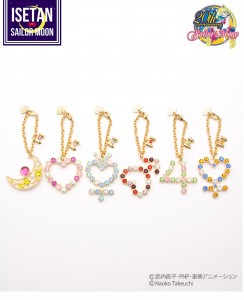 Great! Now how about some cool charms to add a bit of bling bling to all of these things. The Sailor Guardian Elementmarc Charm are 6156 yen, about $50 US. There are 6 charms included. A crescent moon, a heart, and the symbols for Sailor Mercury, Mars, Jupiter and Venus.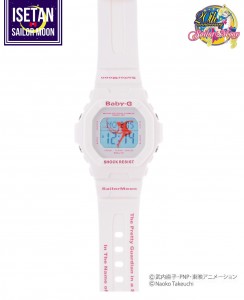 Casio is making a Baby G Watch. This sells for 17,280 yen, a bit over $100 US. It comes in a nice looking case that looks like the Crystal Star brooch, Sailor Moon's transformation item from Sailor Moon R.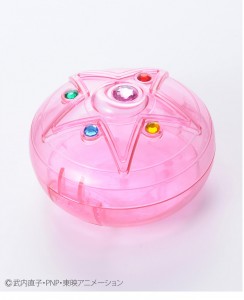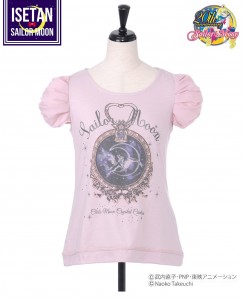 Sailor Moon is also teaming up with Honey Bunch to make a number of items. Many of them don't really seem to have all that much to do with Sailor Moon but others, like this the Chibi Moon Crystal Carillon shirt are pretty Sailor Moon themed. At 8640 yen, over $70 US, this may seem cheap when compared to some of the items for sale but that's a pretty expensive t-shirt.
There are also some Sailor Moon x Secret Honey clothing items which have some Sailor Moon references on them.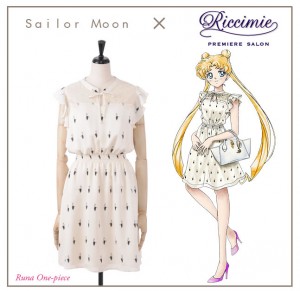 The Sailor Moon x Riccimie clothing items look fairly plain but upon closer investigation have things like Sailor V masks, Luna and other Sailor Moon designs on them.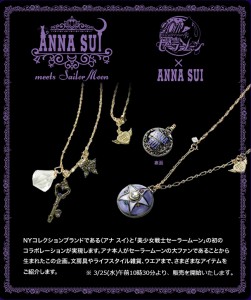 Finally we have the Anna Sui Meets Sailor Moon items. These range from unimpressive phone cases, t-shirts and mugs to jewellery such as a replica Silver Crystal and Key of Space-Time (17,280 yen or about $150 US). Many items like t-shirts and folders just have an Anna Sui meets Sailor Moon logo but others like the jewellery have a bit more Sailor Moon related flair to them. The more expensive bags and jewellery in this collection cost hundreds of dollars like this bag which costs nearly $320 US.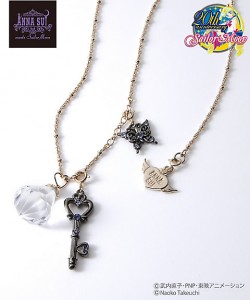 Possibly Related Posts