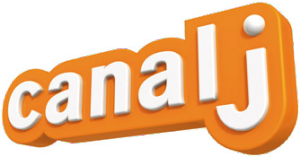 Canal J has confirmed via a conversation on their Facebook page that Sailor Moon Crystal will be airing on TV in France starting in March 2015. Canal J is a French language children's cable channel so they will be airing a French language dub of the show, though no details about the dub are available at this time. Fans are interested in seeing the show with French subtitles, but this is unlikely to happen on a children's channel. For now they can always watch the French subtitled feed on Niconico. I have transcribed and translated the contents of the Facebook message to user Cauldron Tounsyl included in the screenshot below: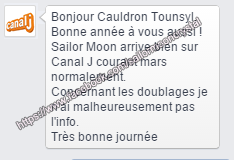 Bonjour Cauldron Tounsyl.
Bonne année à vous aussi !
Sailor Moon arrive bien sur Canal J courant mars normalement.
Concernant les doublages je n'ai malheureusement pas l'info.
Très bonne journée
Which translates to:
Hello Cauldron Tounsyl.
Happy new Year to you too !
Sailor Moon will arrive on Canal J in March.
With regards to the dubbing, I unfortunately don't have any info.
Have a nice day
Sailor Moon first aired in France back in 1993, two full years before airing in English here in North America. As the first to air the original anime outside of Japan it seems for now that France will also be the first to air Sailor Moon Crystal on TV at all, as it is currently only available on streaming services worldwide, including Japan.
With a French language dub of the series in the works I am hopeful that it will also begin airing on French TV stations here in Canada. I used to watch the original French dub of Sailor Moon on TVA on Saturday mornings for a while in the 90s, though they only aired a dozen or so episodes from the first two seasons, despite the fact that all five seasons were dubbed in French.
Source: Sailor Moon Crystal Facebook Page
Possibly Related Posts