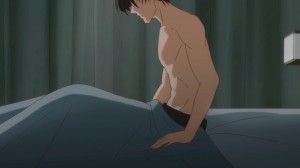 The latest episode of Sailor Moon Crystal, Act 6 – Tuxedo Mask, is now available for viewing on
Crunchyroll, Hulu and Niconico. The episode was released on September 20th in Japan and worldwide. This week's it's all about Tuxedo Mask as we finally see Mamoru with his shirt off, just like we did in the manga and original anime. How does everyone like shirtless Mamoru in Sailor Moon Crystal?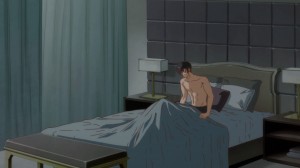 One noticeable change in this episode is that the intro has been modified. Most of the changes are relatively minor, like changes to shading or colouring, but some are more significant such as Sailor Mars's pose at the end of the intro or Queen Serenity's hair and eye colour. In the original manga and anime Queen Serenity, Sailor Moon's mother on the Moon, had white or silver hair. In the intro for streaming episodes 1 to 5 she has blonde hair. This has been updated, most likely because she will be appearing in the series soon and her hair colour will be white. With the DVD and Blu-Ray release coming up on October 15th it's likely that this intro will be used for those, but we won't know for sure for a few weeks.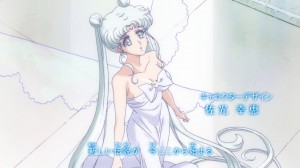 There are minor changes in this episode compared to the manga. It was otherwise as always mostly faithful. When Luna explains the power of the Silver Crystal, she says it has the ability to destroy a planet while in the manga it has the ability to destroy a star. Did the Silver Crystal get a downgrade in power? It never really did either so perhaps it's not that huge a deal. Tuxedo Mask has a great moment in this episode where he explains to Sailor Moon that her true power is about making her friends happy and bringing out the best in them. This has always been what I like about Sailor Moon. Her strength is her kindness and compassion, not in her sheer power to destroy a planet or star. Luna finally explains to the girls that she's from the Moon, a shocking revaluation indeed. She also speaks of who she thinks the enemy is and we see and image of Queen Metalia, the evil energy which is controlling the Dark Kingdom. When the plot progresses Luna also shows the girls their awesome headquarters hidden under the Crown Game Center. Slightly more impressive than the Karaoke room from the live action series!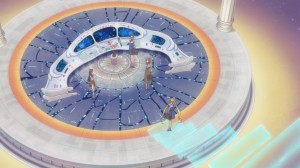 This episode has Mamoru asking the public to find the Silver Crystal, followed by Zoisite doing the same, but while dressed as a woman. It's certainly nice to see this series showing someone cross dressing after last week's episode. Usagi was meant to transform into a groom in act 5 but this sequence was removed from the series. When Zoisite appears on TV asking people to find the Silver Crystal it looked very similar to a scene in the live action Sailor Moon series in which reporters are urging people to tell them to look for the Crystal and the broadcast is similarly shown to a group of people on a large outdoor TV in downtown Tokyo. Unlike most scenes that have a similarity to the original anime or live action series, this one was not lifted from the manga as those TV broadcasts were only shown on small TVs.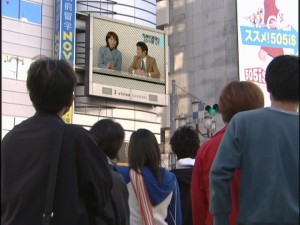 Sailor Moon finally gets to use her new Moon Stick in this episode, as she learns a lesson from the Sailor V game. While at the arcade she notices how Sailor V is using a weapon which bears a striking resemblance to her new Moon Stick. It's by following what Sailor V does in the game that she is able to use her new attack Moon Healing Escalation which she uses to heal the town which has had it's energy drained by Zoisite.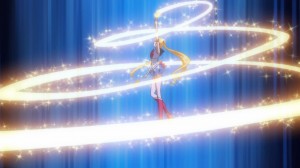 On top of her appearance in the Sailor V game we also get a live look at Sailor V in this episode. The girls speculate a bit about who she might be, and if she has a civilian identity. We also see Artemis along with her. If the manga is any indication, and it has been to date, we should be seeing Sailor Venus at the end of the next episode.
Act 7, Mamoru Chibi – Tuxedo Mask, will be available Saturday October 4th. We see a bit more of Mamoru in this episode as Usagi wakes up at his place and has learned that he's Tuxedo Mask. In the original manga story the Dark Kingdom uses VHS tapes to brainwash the people of Tokyo. I have a feeling this might be updated for a 2014 audience just a little! Be sure to check that out in two weeks.
Keep reading for more screenshots from this episode.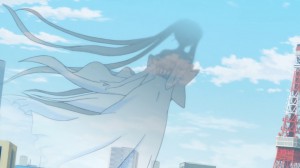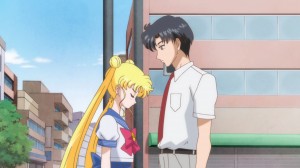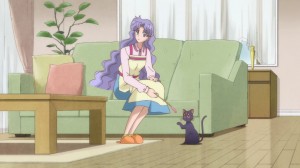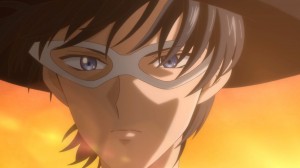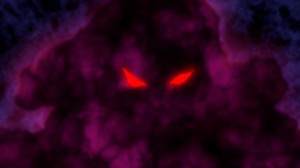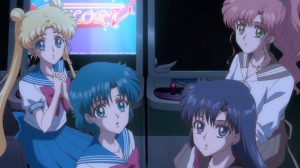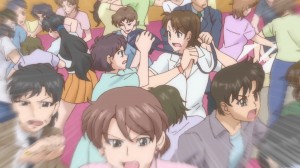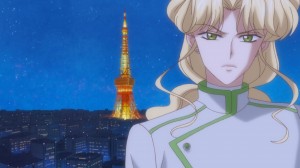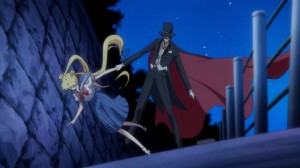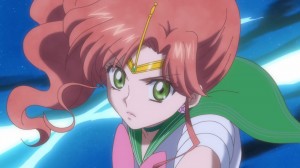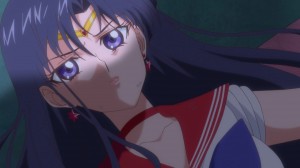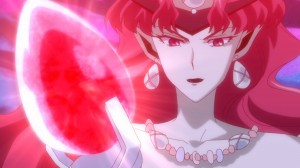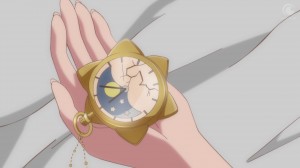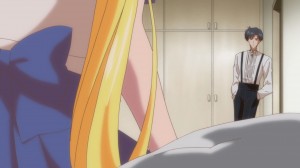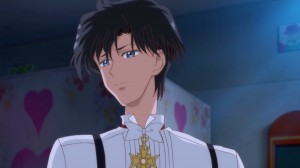 Possibly Related Posts