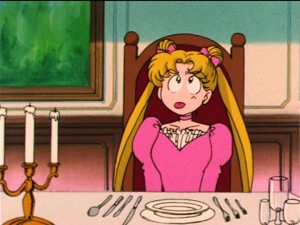 This morning, September 15th, the two latest episodes of the original Sailor Moon anime were added to Hulu and Neon Alley. Every Monday two new episodes, subbed by Viz, will be added. This week we have episodes 37 and 38 which are all about the Dark Kingdom's terrible attempts to uncover Sailor Moon's identity.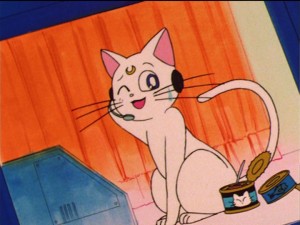 In episode 37, Let's Become a Princess: Usagi's Bizarre Training, the Dark Kingdom is running a Princess Seminar in the hopes of capturing Sailor Moon. The logic is pretty simple. Sailor Moon is Princess Serenity so by running a seminar that looks for certain Princess like innate abilities, they will be able to find Sailor Moon! The first thing they look for, the ability to throw a discus, is a decent test. Usagi does great at this as it's nearly identical to her Moon Tiara Action which she used consistently until she got the Moon Stick and didn't need to any more. Unfortunately the other tests, how to drink soup, how to politely serve tea and how to dance, are things that Usagi was terrible at and disqualified her from being considered to be Sailor Moon. Turns out Kunzite totally missed the boat on this one as he had no idea Sailor Moon was completely awkward, which calls the logic of this trap into question. One discovery that is made in this episode is that the person Luna has been communicating with through her computer at the arcade is actually Artemis who for reasons unknown continued this deception instead of simply coming clean. Also Artemis eats cat food right out of the can. How does he use the can opener?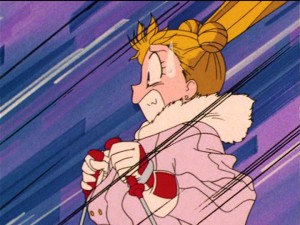 In episode 38, The Snow, the Mountains, Friendship and Monsters, the plot of the week assumes that Sailor Moon is a good skier. The Dark Kingdom has a ski contest going off of the assumption that Sailor Moon would be the winner. Usagi is in fact a completely terrible skier. It's only because she had no control over herself that she awkwardly and ineptly flew to the front of the pack and into the enemy's trap. There is no indication as to why the Dark Kingdom would think Sailor Moon was good at skiing, but we can chalk this up to another failure on Kunzite's part. Meanwhile this episode gives Usagi and Rei a chance to have a heart to heart about Mamoru. Rei comes to terms with the fact that Usagi stole her boyfriend and gives her blessing to the relationship.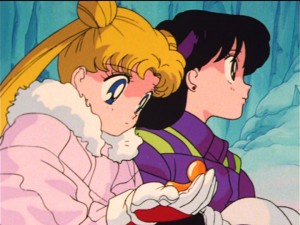 Don't forget that you can also now watch the first 23 episodes of Viz's new Sailor Moon dub on Hulu.
Possibly Related Posts