Earlier today (yesterday in Japan by now) was the first performance of the new Sailor Moon La reconquista musical. A bunch of Sailor Moon fans and even Naoko Takeuchi and Fumio Osano were in attendance. Fan reactions seem positive at this point. All of the songs were new. The story is said to be close to the manga. The Sailor Guardians are now using smart phones, which seems like an appropriate modern version of their seemingly futuristic communicators at the time of the original series. We also see in some images that there are swords! I have not gone seeking out any elaborate spoilers but if you're interested in that you can check out this full review by Sailor Moon fan Yosenex.
A Tweet by Sailor Moon Obsession shows us that the program for the musical includes new art by Naoko Takeuchi.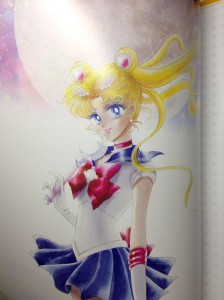 A couple of Japanese web sites have some photos from the musical posted online. Check out natalie.mu and Sponichi Annex for some of those.
We've gotten confirmation via Moonkitty's Twitter page that the musical would be released on DVD. This will likely be a region 2 DVD playable in Japanese DVD players. A Blu-Ray is likely but there has been no specific confirmation of this. Subtitles on either seems unlikely given past releases but again this is just speculation. We'll be sure to share specifics once they become available.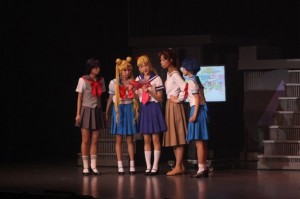 It was also stated last week that the final showing of the musical, the evening of September 23rd, will be streamed live on Niconico video. This won't be a free broadcast as a net ticket will be needed, which is different from an actual ticket to the show, for 2000 yen (about $20 US). I have not attempted to purchase a net ticket myself though the web site clearly states "This program is not available outside of Japan.". I'm not aware to what extent this restriction is enforced but if I learn of a method to bypass this I will pass on those details.
Possibly Related Posts