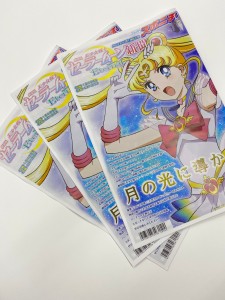 A Sailor Moon Eternal magazine is coming out in Japan tomorrow which is actually soon because tomorrow in Japan is actually a bit later today! This 32 page full colour magazine will be sold in stores in Japan and online. The catch? There's a different cover for the in store version and the online version! The magazine is fairly inexpensive, costing only 550 yen which is a bit over $5 US however ordering it online and shipping it outside of Japan will likely cost significantly more than that in shipping! I went ahead and ordered two copies from Amazon Japan because I was a bit annoyed at the prospect of spending almost three times more on shipping than on the cost of the item itself!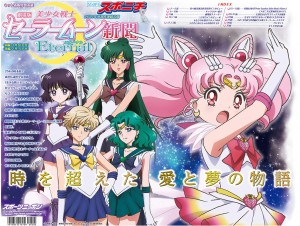 The in store cover features Super Sailor Moon on the front and Super Sailor Venus, Jupiter, Mercury and Mars on the back. The online exclusive cover features Super Sailor Saturn, Pluto, Uranus and Neptune on the front and Super Sailor Chibi Moon on the back.

We can see from the index what is included. I can't really read any of that, but here's a decent estimate at what it says.
Pages 2 to 5 – Special interview with Nanasho & Naomi Watanabe
Pages 6 to 8 – Character introductions
Page 9 – Theatrical version story
Pages 10 and 11 – Interview with Kotono Mitsuishi & Momoiro & production staff
Pages 12 and 13 – Usa-ko and Mamo-Chan's Miracle Romance
Pages 15 and 18 – Side story: Pretty Guardian Sailor Moon's history
Pages 20 and 21 – I'll show you all! The new manga cover collection
Page 23 – Solved on behalf of the Moon (?) Q&A
Page 25 – The Four Choice King special Sailor Moon quiz
Page 28 – Present
Page 30 – Coloring book for adults
Thanks to saintfighteraqua from the comments for providing more detail on some of these!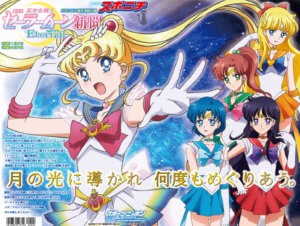 Sailor Moon Eternal Part 1 will be released in theatres in Japan on January 8th with Part 2 following shortly afterwards on February 11th. Though there has been no confirmation of a release outside of Japan there is evidence which suggests the movies will be streaming on Netflix at an undetermined date.
Possibly Related Posts